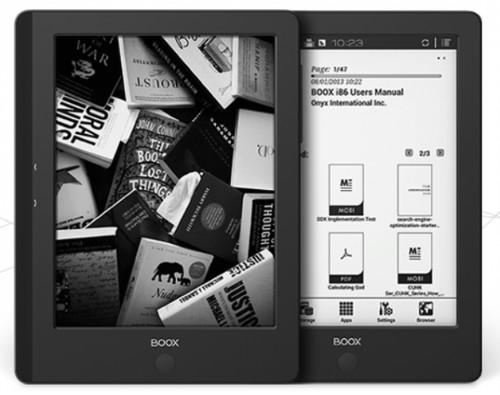 The Onyx Boox i86 is an 8-inch ebook reader with a high resolution E Ink screen that runs open Android and includes a boatload of features.
The Boox i86 has been encumbered by a number of delays. An early model without a frontlight recently became available, and now finally the i86 with frontlight is officially getting released.
The German-based eReader Store has just put the Onyx Boox i86 HDML Plus with frontlight up for pre-order for 199 euros, which translates to about $220 USD.
The release date is one week away, the 5th of June.
In addition to adding a frontlight, this HDML Plus model is a more beefed up version; it has twice as much storage space and RAM as the regular model.
Like other Boox ereaders, it runs Android 4.0.4, which is supposed to be getting updated to Android 4.4 soon. It supports the Google Play store and can install Android apps.
The i86 is one of the few options for an 8-inch E Ink ebook reader. It's good to see more options like this hitting the market. Hopefully more will follow.
In case you missed it, here's a brief video showing the Onyx Boox i86 with frontlight if you want to see it in action.
Onyx Boox i86 HDML Plus Specs
8" inch E Ink Pearl display.
1600 x 1200 pixel resolution (250 dpi).
LED frontlight.
Infrared touchscreen.
Android 4.0 operating system (getting updated to Android 4.4 KitKat).
Processor: Cortex A9 1.0 GHz.
1 GB RAM.
8GB internal storage space (6GB usable).
MicroSD card slot (up to 32GB).
Mini USB 2.0.
3.5mm headphone jack.
Wi-Fi.
Bluetooth 4.0.
Battery: 1700mAh LI-ION Polymer Battery, lasts up to 2 weeks per charge.
Supported ebook formats: PDF, TXT, HTML, EPUB, CHM, PDB, MOBI (Non-DRM), FB2, DJVU
Dimensions: 210 x 160 x 9mm.
Weight: 340 grams.