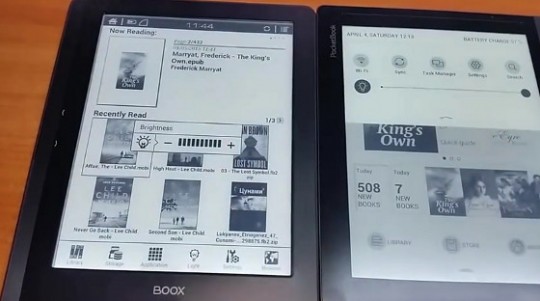 I came across a video on YouTube that was uploaded yesterday comparing two 8-inch ebook readers, the Onyx Boox i86ML and PocketBook InkPad.
The most interesting thing about the video isn't the comparison itself, it's the fact that the Onyx Boox i86 shown in the video, the i86 ML, has a frontlight, and the video was uploaded by eReader Store, so it stands to reason they are going to start selling them at some point soon.
The i86 first appeared 1 year ago this month but delays kept it from ever getting released.
The Boox i86 started selling from a few places a couple months back, but it was a model without a frontlight, and was rumored to be a pre-production model that wasn't supposed to be released.
Now the i86 ML with frontlight has emerged, and it looks like it could be a really good all around ereader.
There are very few options for ebook readers with larger screens, and while the i86 isn't as big as the Boox M96 or Sony DPT-S1, the 8-inch E Ink screen is a good step up from 6-inch screen that most ereaders use. And with the added benefit of the frontlight, which the larger ereaders don't have, it's a good compromise in more ways than one.
The screen on the i86 looks fantastic in the video below. The frontlight is evenly distributed and has a natural tone. Text is clear and dark with the 1600 x 1200 E Ink screen. Plus the i86 runs Android, so it's open to all kinds of possibilities.
So far the i86 ML isn't for sale anywhere yet but I'll keep you posted when it turns up. Subscribe to The eBook Reader Blog for updates.
Onyx Boox i86 ML Compared to Pocketbook Inkpad