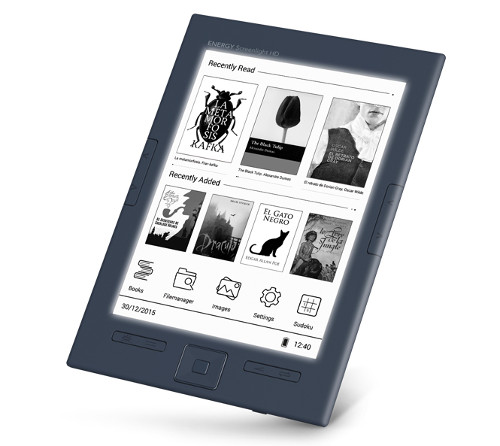 Last week I posted about the Energy eReader Pro HD, a new thin flush-screen ereader with Android 4.2 and Google Play from Energy Sistem, an electronics company based in Spain.
Energy Sistem has also released two other new ereaders to add to their lineup, the Screenlight HD and Slim HD. Both are more basic than the Pro HD model so they are less expensive but they don't have nearly as many features.
Both are essentially the same but the Slim HD is half a millimeter thinner at 7.6 mm and it doesn't have a frontlight.
The Screenlight HD has a slightly larger battery to accommodate the frontlight, which adds 5 grams to the overall weight.
Both are similar to last year's models without the HD name, which is a bit of a misnomer anyway. They have 6-inch E Ink Carta screens with a resolution of 1024 x 758 (212 ppi).
Neither have touchscreens. The Screenlight HD is the only ereader that I can think of with the combination of a frontlight and no touchscreen. They also lack Wi-Fi.
Both have 8GB of storage and microSD card slots for cards up to 64GB. They support Adobe DRM and the following formats: TXT, PDF, EPUB, FB2, PDB, RTF, MOBI.
It's interesting to note that the specs say that they only have 600 MHz processors with 128 MB of RAM. That's some old school specs. Most ereaders in this day and age have 1.0 GHz processors and 512MB of RAM.
This is especially import because these ereaders run Android (based on the screenshots they run Boyue firmware). Obviously it's more of a closed off version than what's on the Energy Pro HD because there's no Android app support without a touchscreen or WiFi, but that still seems kind of low.
The Energy Slim HD sells for £52.13 from Amazon UK and for 74.90 euros including VAT from Energy Sistem's website. It also sells for $75.88 from Amazon.com.
The Screenlight HD sells for £66.05 from Amazon UK and for 94.90 euros incuding VAT directly from Energy Sistem. It also sells for $96.15 from Amazon.com.