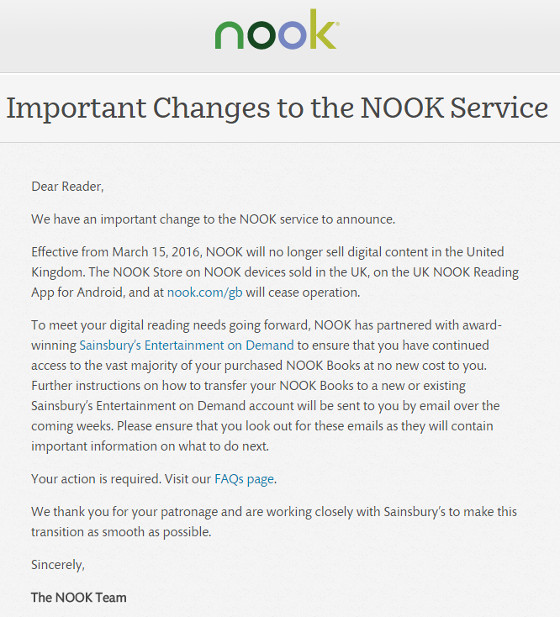 It's happening again. Another ebook store is closing and customer accounts are getting sent over to a different company.
No one is going to be surprised when they hear that Barnes and Noble has decided to close the UK branch of the Nook store. That is what's happening on March 15th, 2016.
The Nook Team has posted a notice on the Nook UK website detailing the change.
Normally I'd add a link to the notice, but since the website will cease to exist in twelve days there's not much point. Instead here's the Nook UK FAQ page, which should stick around for awhile longer.
The pertinent portion of the announcement is as follows:
Effective from March 15, 2016, NOOK will no longer sell digital content in the United Kingdom. The NOOK Store on NOOK devices sold in the UK, on the UK NOOK Reading App for Android, and at nook.com/gb will cease operation.

To meet your digital reading needs going forward, NOOK has partnered with award-winning Sainsbury's Entertainment on Demand to ensure that you have continued access to the vast majority of your purchased NOOK Books at no new cost to you. Further instructions on how to transfer your NOOK Books to a new or existing Sainsbury's Entertainment on Demand account will be sent to you by email over the coming weeks. Please ensure that you look out for these emails as they will contain important information on what to do next.
Pretty much everyone expects Barnes and Noble to give up on the Nook at some point since the general idea of business is to make money instead of continuing to lose more and more each year. They used to have a partnership with Microsoft and sold Nook books to a few dozen countries. They ended that quite awhile ago, so the only thing surprising about the Nook UK closure is that it took this long to happen.
Nook customer accounts and ebooks are being transferred over to Sainsbury's. Customers aren't required to make the transfer. They are going to send out emails with the option to transfer detailing the ebooks that will survive the transfer, similar to how the Sony and Borders transfers to Kobo worked.
Over at MobileRead MikeB1972 had a great line: Moving users to Sainsbury's instead of Kobo, can't even follow the industry standard for failing. 🙂