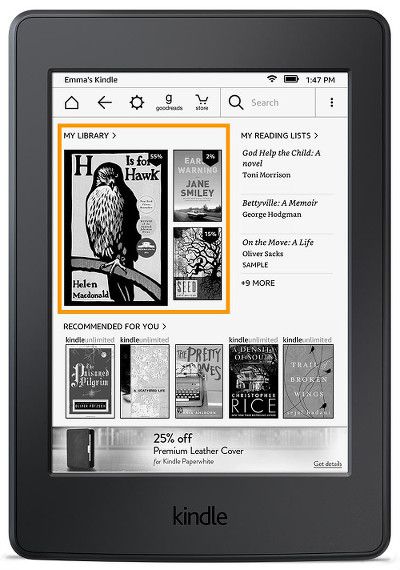 A number of folks are disappointed with Amazon for removing the dots in list view that gave a visual representation of each Kindle book's length on the Kindle Paperwhite, Kindle Voyage, and the basic Kindle Touch.
The latest 5.7.2 software update brought big changes to the Kindle's user interface, especially the homescreen, and the reading-length dots ended up getting removed altogether.
When will software developers learn that removing features is never going to go over well with users, no matter how minor they may thing the feature is?
I suggest letting Amazon know if you don't like changes made with Kindle updates via their official support email: kindle-feedback@amazon.com.
Amazon has been getting a lot of negative attention lately for removing the device encryption option from Fire tablets because a very small percentage of people used it, but now they've said they're bringing it back after a bunch of complaints.
So I wouldn't be surprised to see the dots return if enough people complain about that too.
For those of you that never used the dots, or noticed them, they help when choosing a book to read from your library because you can see how long each book is in relationship to the others. The dots come in handy when you just want to read a shorter book instead of starting a 1000+ page tome that's going to takes weeks to finish, or vice versa.
Other Ways to View Book Length
There are a couple of less convenient ways to view the length of each Kindle book.
The best workaround is to use the "About This Book" feature. It shows the number of pages in each book and it gives an estimate of approximately how long it typically takes to finish reading the book.
The "About This Book" window pops up whenever you first open a new book.
You can also access it at anytime by opening a book, hitting the menu button, and then tapping the "About This Book" option.
This feature can be turned on and off so if it's not working for you make sure the option is enabled in settings. Go to Settings > Reading Options > Notes & About This Book.
The main problem with this feature is the length cannot be viewed from the homescreen or library view so you can't easily compare it with other books without downloading and checking each manually.
There is another way to view book length in a roundabout way from the homescreen and library view without downloading each book. You can long-press on an ebook, or tap the little three dots, and choose to view the Book Description at Amazon, which shows the book length in pages but with no reading time estimate.
Neither option is as convenient as the missing dots but at least there's still a way to get some idea of how long it will take to finish reading a particular book.