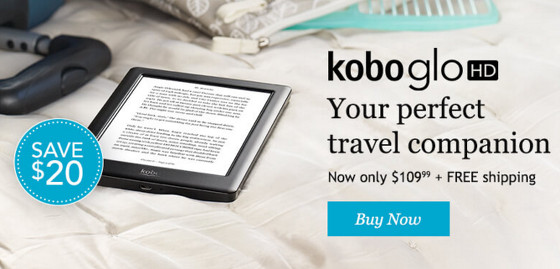 Kobo has been running sales on their ereaders a bit more frequently lately.
The Kobo Glo HD is on sale once again just like it was last month for Valentine's day.
They've taken $20 off the regular price, taking it from $129 to $109. The sale runs from March 11th through March 20th, 2016.
Amazon also has their Kindles on sale this week for $20 off, so I guess Kobo wanted to get in on the action too.
The Kobo Glo HD is comparable to the Kindle Paperwhite 3, which is currently going for $99. But the Paperwhite comes with ads at that price, and it costs $20 extra to remove them, so the Glo HD is actually a slightly better bargain.
Both are among the best ereaders on the market but each has some advantages and disadvantages over the other. Here's my comparison of the Kobo Glo HD vs Kindle Paperwhite 3 for a closer look.
Both Kobo and Chapters.Indigo, have the Kobo Glo HD on sale.
If ordering from the US, it's usually cheaper to get Kobo ereaders from Indigo because they charge in Canadian dollars instead of US dollars. Even with having to pay shipping it's cheaper than ordering from Kobo with free shipping at the current exchange rate.