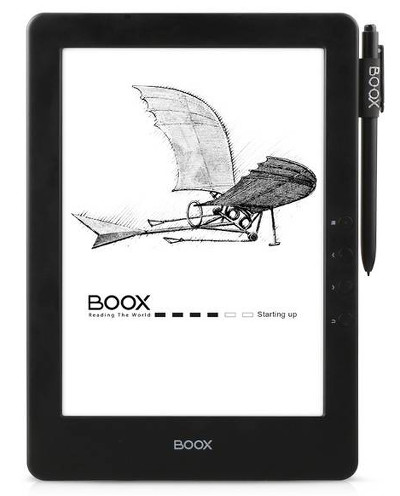 Onyx has two new 9.7-inch E Ink ebook readers that they are releasing for 2016, the N96 and N96ML. Both run Android 4.0 and include a number of advanced features not found on typical ereaders.
A few retailers started accepting pre-orders earlier this month for both Onyx Boox N96 models.
You can add another retailer to that list: Banggood. They have both models available to order from their website. But the prices aren't cheap.
The Onyx Boox N96ML sells for $425 and the N96 sells for $444. Both include free shipping, and they ship to just about anywhere.
I'm a bit surprised they're selling for that much. That's about $100 more than the previous generation, the Boox M96, which has similar hardware and software.
Both N96 models have something the M96 lacks, so I guess the price hike shouldn't be surprising. But it is kind of surprising to see the N96 being more expensive than the N96ML. Personally I'd rather have the less expensive frontlight version than finger touch support.
The difference between the two models is simple. The N96ML has a frontlight and supports pen touch only. The N96 doesn't have a frontlight; instead it has a dual-touch screen that supports both finger and pen touch.
The N96 is among a very small number of ereaders that have large 9.7-inch E Ink Pearl screens. The resolution is lower than 6-inch devices at 1200 x 825, but the much thicker and larger text helps make up for it. Both devices also have Wi-Fi, Bluetooth, and support audio via a headphone jack and external speaker, with support for text-to-speech. There's even a built-in mic for recording.
They have 16GB of internal storage space, a memory card slot, 1GB of RAM, and feature a Cortex-A9 1GHz CPU. Both weigh about 480 grams and measure 258 x 177 x 9.5mm.
Since they both run Android, a wide range of formats are supported and a number of apps can be installed. It's unclear if this version comes with Google Play onboard, however. It might require rooting to add it.