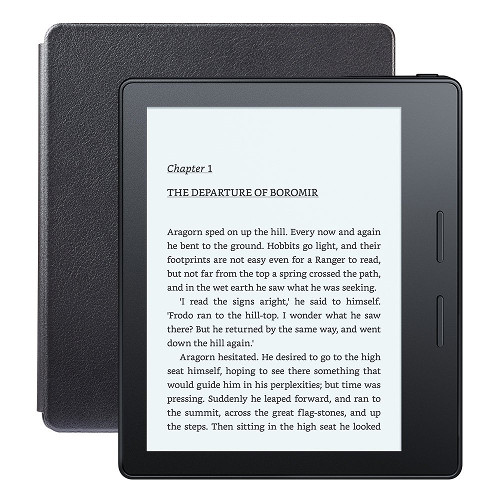 Amazon officially introduced the latest addition to their line of Kindles today. As expected, the new ereader is called the Kindle Oasis.
It has a new asymmetrical design with page buttons on one side of the screen and a sensor that detects when you flip the device 180 degrees so that you can hold it with either hand.
The design of the Kindle Oasis is also tapered so that it's thicker on the side with the buttons and thinner on the opposite side.
It tapers from 8.5mm down to 3.4mm so that most the weight is centered in your hand, which is meant to make it more comfortable to hold one-handed.
There's also a cover included that is designed to fit the unique tapered design of the Oasis.
Plus the cover has an added battery to prolong battery life and charge the Kindle.
Of course we already knew that thanks to the numerous leaks over the past week…
Like the Paperwhite 3 and Voyage, the Kindle Oasis has a 6-inch E Ink Carta display with 300 ppi. No change to the screen will come as a disappointment for some folks that were hoping for a larger Kindle, but Amazon did improve the frontlight to make the lighting more even and consistent.
That's a big plus because a number of people were unhappy with subtle color variations on the Kindle Voyage's screen.
The Kindle Oasis has 10 LED lights to help improve lighting consistency. By comparison the Voyage has 6 LEDs and the Paperwhite has 4. It will be interesting to see the actual difference in person. Check back on release day for a first impressions review.
The price of the Kindle Oasis starts at $289 for the Wi-Fi Special Offers model and goes up to $379 for the Wi-Fi + 3G model. Add $20 to those prices for the non-ad versions. Here's the link to the international Kindle Oasis page.
So it's $90 more than the Kindle Voyage, which is kind of crazy considering there hasn't been any boost in specs—it has the same screen, the same processor, the same storage space. So basically you're paying $90 for a rechargeable cover and a new ergonomic design. A regular leather cover costs $60 by itself for the Voyage, so I guess the price isn't as high as it may seem.
The release date for the new Kindle Oasis is set for April 27th, 2016.
In Canada the Kindle Oasis starts at $399 from Amazon.ca and in the UK it sells for £269 from Amazon UK.
Here's the link to the PDF user manual for the Kindle Oasis. The software is the same as other Kindle so there's been no change there.
Kindle Oasis Specs
6-inch E Ink Carta display.
1448 x 1072 pixel resolution (300 ppi).
10 LED frontlights for increased frontlight evenness.
Capacitive touchscreen.
Page buttons.
Accelerometer to switch orientation.
Leather charging case included.
1 GHz processor, 512MB RAM (unconfirmed but most likely).
4GB internal memory.
Wi-Fi 802.11 b/g/n .
3G model option.
Supported formats: Kindle Format 8 (AZW3), AZW, KFX, TXT, PDF, unprotected MOBI, PRC; HTML, DOC, DOCX, JPEG, GIF, PNG, BMP through conversion.
Battery Life: Up to 8 weeks, according to Amazon.
Weight: 4.6 oz – 131 grams (without cover); cover weighs 107 grams.
Dimensions: 5.6″ x 4.8″ x 0.13-0.33″ (143 mm x 122 mm x 3.4-8.5 mm).
Price: $289-$379 at Amazon