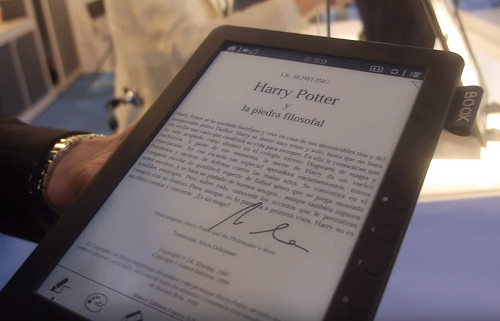 It's been awhile since we've seen Charbax from ArmDevice.net shooting a video showing off some new E Ink ereaders at a trade show.
This time around he posted a video showing new ereaders for 2016 from Onyx Boox at the HKTDC Fair.
Onyx has two new 9.7-inch E Ink ereaders that they just released, the Boox N96 and the Boox N96ML.
The ML version has a frontlight with support for stylus touch and the N96 has a dual-touch screen that adds finger touch support but it lacks a frontlight.
Onyx's first 13.3-inch E Ink ereader, the Onyx Boox Max, is also shown in the video. It has a stylus-activated touchscreen as well but it lacks finger touch support and a frontlight.
All three run Android 4.0 and have 16GB of storage space, 1GB or RAM, WiFi, Bluetooth, audio support, a microSD card slot, and a 1GHz Cortex-A9 processor.
The Onyx Boox Max is available for pre-order from a German retailer for 585 euros and is expected to ship by the end of April.
Both Boox N96 models were just released and have already started shipping from a few retailers such as Banggood.
They also show a new higher-end waterproof Onyx Boox ereader in the video that hasn't been released yet. It has a flush glass 6-inch screen, as the trend continues.
Video of Onyx's New eReaders