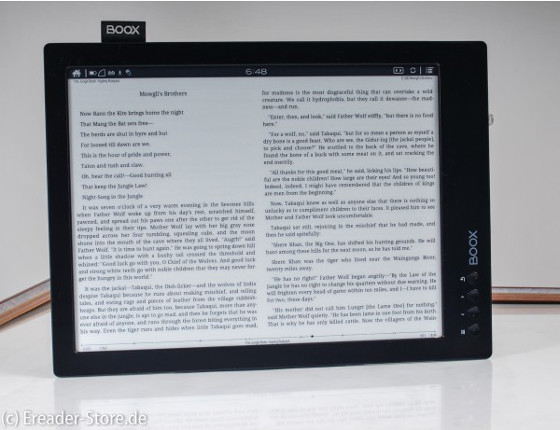 The much-anticipated 13.3-inch Onyx Boox Max is one step closer to getting released.
The website eReader-Store.de, a specialized ereader retailer based in Germany, has the Onyx Boox Max up for pre-order for 585 euros, or 696 euros with tax. The listing says it's an introductory pre-order price so I guess that means the price will be going up after it gets released.
The device is expected to ship by the middle of April.
For those in the US, 585 euros is the equivalent of about $650 USD, so after shipping charges it's probably around $700.
That sounds like a lot, (it's way too expensive for me to review) but that's still less than Sony's 13.3-inch ereader that sells from B&H Photo for $799.
Plus the Onyx Boox Max comes with Android 4.0 software that is much more versatile than the Sony DPT-S1 that can only display PDFs and nothing else.
So basically the Onyx Boox Max has just made the Sony DPT-S1 obsolete—the only advantage the Sony has is the capacitive touchscreen, whereas the Max features an electromagnetic touchscreen only, one that requires using a specialized stylus, which has the benefit of being very accurate for writing.
The Onyx Boox Max has a 13.3-inch flexible Mobius screen with a resolution of 1600 x 1200. It's not really bendable but it is plastic-based so it's thinner, lighter and more durable than regular E Ink screens that are glass-based. The screen itself weighs about 63 grams; if it were glass-based it would weigh closer to 144 grams. The overall weight of the Max is 496 grams, and it's just 8.4mm thick.
Other specs include 16GB of built-in storage space, it has a memory card slot, Wi-Fi, Bluetooth, a built-in speaker, a 3.5mm headphone jack, a microphone, and a 4100mAH Lithium polymer battery.
Here's the link to an earlier article with a video demo of the Onyx Boox Max, except it's an extremely long silent film so it gets kind of boring after awhile.