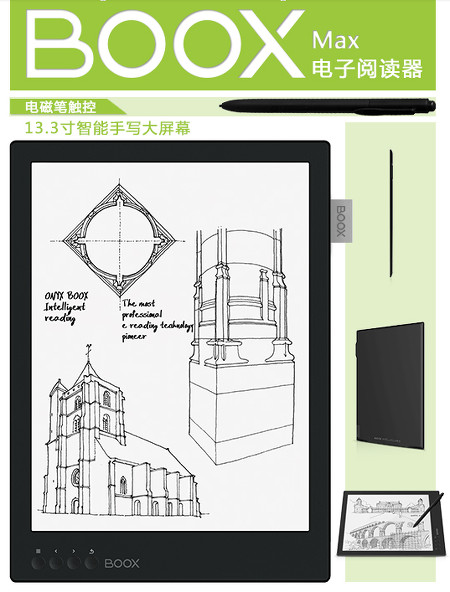 The new set of 9.7-inch Onyx Boox N96 ereaders aren't the only new devices that Onyx is getting set to release soon.
Onyx also has a 13.3-inch ereader in the works called the Onyx Boox Max that is said to be getting released sometime in the next couple of months.
For some reason Onyx doesn't have the Max listed on their website like they do the new N96 models, but there's already a product listing for the Onyx Boox Max at Alibaba.
Unfortunately they have a 2000 unit minimum order so that's not going to help anyone order one anytime soon, but at least it's a good sign that the device is about to be released soon.
Onyx showed off a prototype of their 13.3-inch E Ink ereader a few months ago, so it's good to see them moving along much faster with the release than other companies (like Pocketbook's 13.3-inch ereader that they've been demoing for over 2 years now without ever actually releasing anything).
The Sony DPT-S1 has been the one and only 13.3-inch E Ink ereader released up until now, and it only supports PDF format so it's not nearly as versatile as the Onyx Boox Max, which runs Android 4.0 and supports a bunch of formats and apps.
As far as specs, it's hard to be certain since Onyx doesn't list the Max on their website yet. The listing at Alibaba gives a bunch of specs but it's hard to tell how accurate they are or if they're just copy and pasted from a different listing. For instance, it says it has an E Ink Pearl screen, which shouldn't be the case. It should have a flexible Mobius screen; if it has a Pearl screen that large it would break too easily.
Other specs are basically the same as the N96. It has an electromagnetic touchscreen, 16GB of internal storage space, 1GB of RAM, a memory card slot, Bluetooth, Wifi, speakers, a mic, and no frontlight.
There's no word yet on pricing but large-screen E Ink ereaders are super expensive so I'd expect it to sell for no less than $600. The Sony DPT-S1 still sells for $800 from B&H so it'll probably be closer to that number considering that it's better than Sony's model in just about every way.