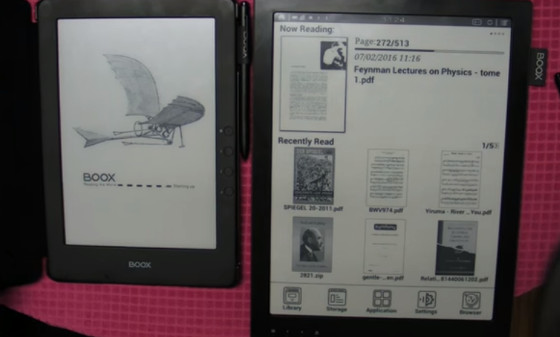 Booxtor from eReader-Store.de, one of Onyx International's authorized resellers, has uploaded a YouTube video showing the new 13.3-inch Onyx Boox Max and Onyx Boox N96 (N96C and N96ML) E Ink ereaders in action.
The video is insanely long and doesn't include any narration or editing so I could only stand to watch it for about 2 minutes before getting bored, but at least it does show the two new devices in action.
It's amazing just how large the 13.3-inch Onyx Boox Max appears. It makes the 9.7-inch N96 look tiny by comparison.
At the end of the video the N96 with frontlight is shown. It's one of the first 9.7-inch E Ink ereaders to get a frontlight and it actually looks decent.
Frontlights are notorious for uneven lighting and shadowy areas on small 6-inch screens so obviously larger screens are going to be even more difficult to get even lighting, but it looks pretty good for the few seconds it's shown in video.
Booxtor also revealed some interesting new details about the Onyx Boox Max at MobileRead. First off it's going to be using the 1600 x 1200 resolution E Ink Mobius screen instead of the 2200 x 1650 screen that was promised earlier. Apparently the higher resolution screens have been delayed so it was either go with the same screens used on the Sony DPT-S1 or delay the Max to the point where it would likely never get released.
Booxtor also gave a tentative retail price of 585 euros without VAT for the Onyx Boox Max, although that could change when it gets released in a couple of months. That is equivalent to about $650 USD, which is about $150 less than the current price of the only other 13.3-inch E Ink ereader, the Sony DPT-S1, but Booxtor's price doesn't include shipping from Germany.
Onyx Boox Max and N96 Video Review