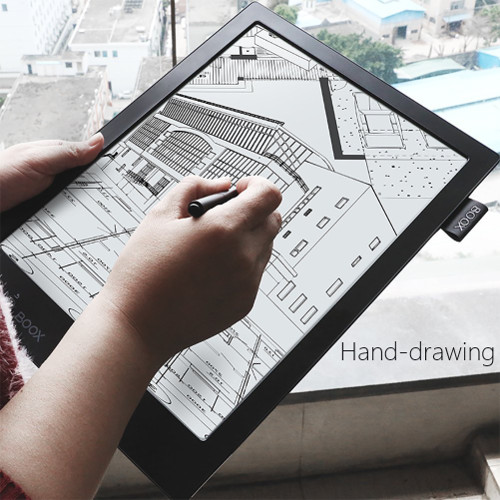 The Onyx Boox Max is a new 13.3-inch E Ink ereader that runs Android 4.0 and has a pressure-sensitive touchscreen for accurate handwriting using a stylus.
The first batch of orders just started shipping out last week from a specialized German retailer. Now a new seller that just launched on Amazon is taking pre-orders in the US, the UK, and from a few other international Amazon websites as well.
The pre-order price for the Onyx Boox Max is $650 at Amazon.com, plus $3.15 for shipping. For an extra $10 off see the update below.
That's not a bad price considering the Sony DPT-S1, the first and only other 13.3-inch E Ink ereader currently available on the market, still sells for $799, and it only supports PDF format and nothing else.
From Amazon UK the pre-order price is £460, plus £4.48 UK delivery. Other European Amazon sites have it for 565-600 euros.
Apparently the pre-order prices are lower than what it will sell for regularly, which is $685 in the US and £480 in the UK.
The pre-orders also come with three added gifts, according to the product description. There's an included bag for the Onyx Boox Max, a 32GB microSD card, and a retro notebook of some sort (it's hard to tell from the description).
The pre-orders are available through May 20th in the US and May 25th in the UK, so that's not very far away.
A new seller on Amazon called Lancer Tech is selling these so it's hard to know exactly what to expect, but it's good to see more buying options becoming available than just the one store. The seller doesn't have any feedback yet and the description says the Max ships from China.
There's an obvious misprint on the description where it says the screen has 300 dpi. That is not the case. It has 150 pixels-per-inch. The screen resolution is 1600 x 1200 and the screen measures 13.3-inch diagonally. Larger screens don't need super high pixel density anyway because everything is larger and farther away. A typical 22-inch computer monitor only has 100 ppi, for instance.
Here's an earlier post with a video demo showing the Onyx Boox Max in action, along with the smaller 9.7-inch N96, which also recently turned up on Amazon but it's not for sale yet.
Update: I contacted the folks at Lancer Tech and they said they'd loan me an Onyx Boox Max so check back soon for a full review and some video walkthroughs. They also gave a discount code that US customers can use during checkout to receive an extra $10 off. The code is EBOOKRED and it works with the US Amazon website only.