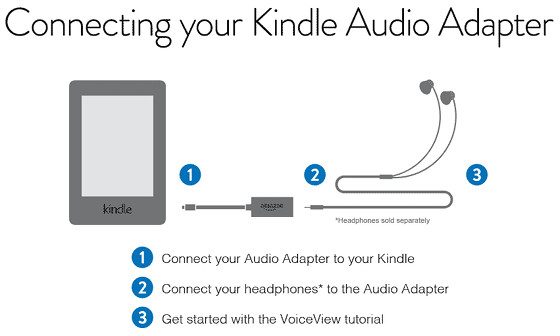 Amazon has developed a new solution for people that want to have text-to-speech on their Kindle ereader.
Amazon just introduced a new Kindle Paperwhite bundle that comes with a Kindle Audio Adapter that plugs into the Kindle's USB port to listen to text-to-speech through a set of connected headphones or speakers.
It's being marketed as a tool for the blind and visually impaired, but of course anyone who would like to bring text-to-speech support to their Kindle can enjoy it too.
The audio only works with TTS, not music or audiobooks.
It uses Amazon's VoiceView feature, a screen reading tool designed to help visually impaired people navigate by touch and sound, which is getting added to Kindles via a software update.
There are eight speed levels to choose from, and it uses Amazon's natural language text-to-speech voices (formerly known as IVONA). Battery life is rated at up to 6 hours of continuous use (using the Kindle's battery).
Right now the Kindle Audio Adapter is only available with the Kindle Paperwhite 3 bundle, but hopefully it will be sold separately soon (Amazon hasn't officially announced it yet).
The retail price is $19.99 for the Kindle Audio Adapter, according to the listing, so it adds $20 to the overall price of the Paperwhite 3 bundle, but Amazon is giving out a $20 credit with the bundle so it's essentially free with the purchase of a Paperwhite 3.
It will be coming to other models as well so stay tuned for more updates (and a review eventually). More info can be found on this Kindle Accessibilities Page.
via: Slashgear