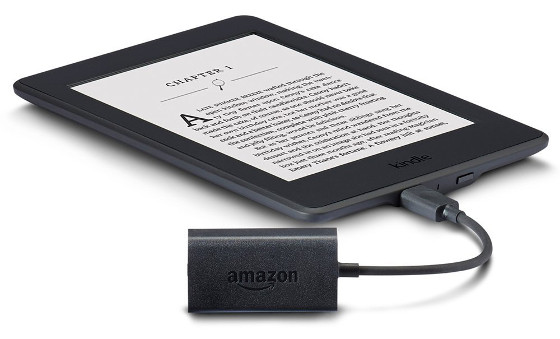 Earlier this week Amazon released a new Kindle Audio Adapter that is designed to bring text-to-speech and VoiceView, an accessibility tool for the blind and visually impaired, to Kindle ereaders.
The adapter essentially comes free with a Kindle Paperwhite 3 bundle after a $20 credit.
The Kindle Audio Adapter can also be purchased separately for $19.99 from Amazon.
As it turns out, you don't need the official adapter from Amazon to use the text-to-speech and VoiceView features on Kindles.
A regular micro-USB OTG cable and USB sound card adapter will work just fine.
If you don't mind waiting a few weeks for shipping from China, you can find super cheap USB sound adapters and OTG cables on eBay for under $1 each.
If you'd rather get them shipped and delivered earlier, you can still get a combo on Amazon for under $11. They sell USB sound cards for $6 and they have a number of OTG cables for under $5. Some are as low as $1.29 with free shipping.
Once you have an adapter, either the official Kindle adapter or your DIY version, all you have to do is plug it into your Kindle to use the audio features.
Currently the adapters work with the Kindle Paperwhite 3 and Kindle Oasis with the latest software installed. It also works on the Kindle Voyage but a set of audio files have to be transferred to it first. Amazon should officially add support to the Voyage soon. As far as other Kindle models, there's been no official word from Amazon about which will and which won't get support for the audio adapters.
A German blog, Papierlos Lesen, uploaded a YouTube video showing how a DIY version of the Kindle Audio Adapter works for using the text-to-speech and VoiceView features.
Update: It looks like this is only going to work with the Kindle Paperwhite 3, the Kindle Voyage, and the Kindle Oasis because it turns out that the TTS software requires 512MB of RAM to work and all the other Kindles only have 256MB.
DIY Kindle Audio Adapter VoiceView Demo