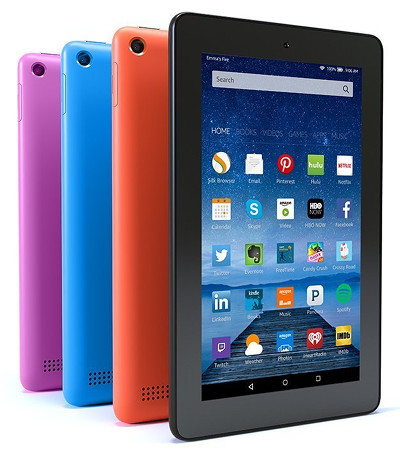 Amazon has started rolling out a software update for Fire tablets that adds some new features and includes the usual "general performance improvements".
The new software version is 5.1.4, and it's for the entry-level Fire tablet as well as the Fire HD 8 and HD 10.
Amazon hasn't updated the software updates pages yet for the Fire tablets, however, so there's isn't a way to manually install it yet but the pages will probably get updated soon.
The update adds two new key features: Kindle ebooks and periodicals can now be saved to the microSD card (you can manage your preferences under Settings > Storage), and a new "On Deck" feature has been added that will automatically download Amazon videos to watch offline.
Being able to save Kindle content to the memory card will free up some much needed internal storage space, which can then be occupied by some On Deck Amazon video that you may or may not want.
The whole On Deck concept seems a bit strange to me. It's basically intended to automatically download Amazon videos when you're not using the tablet so that you have something to watch anytime, even while offline.
According to the documentation that came with the update, On Deck will automatically download a "selection of movies and TV shows" when your tablet is plugged in and idle, provided it has adequate storage space available, which can be set to either the internal storage or memory card from settings.
The manual says that On Deck downloads videos using a special "shadow mode" that only uses storage when it's available, and it will automatically make room. Amazon assures that it won't impact performance and it won't block you from using your storage space.
On Deck is enabled by default and can be turned off by going to Settings > Apps & Games > Amazon Application Settings > Video > On Deck. Parents can also use Amazon Video Settings to limit On Deck downloads to content suitable for kids.