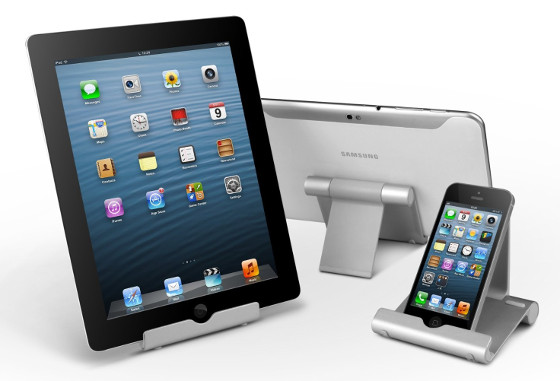 Probably the most underrated tablet and ereader accessory is an adjustable stand. They make it nice and convenient to use your device hands-free.
If you've ever seen any of my YouTube videos you'll notice the same ereader stand that I've been using for the past 4 years.
It comes in handy on a daily basis; everyone that has a tablet or ereader should have a good stand—it's better than trying to find something to prop it against and hope it doesn't slide off.
Stands are quite inexpensive. Most cost under $10 and some sell for as little as $5.
The stand that I use is called a 3feet stand. Unfortunately they are no longer being made or sold anywhere, unless you happen to come across one on eBay.
Since I don't have any experience with other stands, let's refer to the most popular stands at Amazon and put together a roundup of the stands with the best reviews.
If you have a favorite ereader or tablet stand feel free to share it in the comments!
Best Tablet and eReader Stands under $10
Anker Multi-Angle Aluminum Stand
4.7 stars, 6,473 customer reviews
Works with all 4 – 10-inch smartphones, ereaders, and tablets. It has rubber pads and rubber feet to protect your device from scratches and from sliding. It adjusts between 9 different viewing angles and it comes with an 18-month warranty. It's made from aluminum and weighs 3.6 ounces; it can hold up to 11 pounds of weight (that's one heavy ereader!).
Amazon Basics Adjustable eReader/Tablet Stand
4.7 stars, 1,806 customer reviews
The Amazon Basics stand is adjustable to fit tablets and ereaders with screens 6-inches to 12-inched in size. It has a non-skid base and a pivoting design that can be positioned at almost any angle. The stand folds up for increased portability.
4.8 stars, 369 customer reviews
The Kitbest stand is very similar to the Amazon Basics stand above. It folds up and can fit in a pocket, and can be adjusted into a number of angled positions. It fits most tablet and ereader sizes up to 10 inch screens.
4.5 stars, 124 customer reviews
The Barsone stands are available in five different colors. They are made from aluminum and have silicone pads to hold your device in place and to keep the stand from slipping. It lacks the multi-positioning options some of the other stands offer but it's only $5.
MoKo Multi-angle Tablet and eReader Stand
4.3 stars, 105 customer reviews
The MoKo stand is a lightweight plastic stand (1.09 oz) with six adjustable slots for different angles. It has rubber pads to protect the surface of your device. It fits most tablets and phones and supports tablets up to 11 inches.
More Tablet and eReader Stands
There are a bunch of different styles of stands other than the basic kind above. Some are customized for beds and couches, some have a bunch of different arms and mounting options, some have built-in lights.
LEVO Deluxe Tablet Floor Stand
4.8 stars, 229 customer reviews
A high-end floor-mounted tablets stand with adjustable swing arms and a pivoting platform that holds tablets and ereaders that measure 8.5″ x 11″ or less. It has an anodized aluminum finish and comes with a 3 year warranty.
LEVO G2 Essential Tablet Floor Stand
4.5 stars, 39 customer reviews
A less expensive version of the stand above. Good for chairs, recliners, sofas, etc. Height adjusts from 26 – 43 inches from floor to center of device. It extends 13.5 inches from edge of your furniture to center of your device. It has a 4 axis swing-arm to spin, pivot, and tilt your ereader or tablet. It's compatible with all devices measuring 12 x 8.7 inches or less.
Tablift Stand for Beds, Sofas, or Uneven Surfaces
4.6 stars, 303 customer reviews
A universal stand designed to work with tablets that have an edge that will fit into a 10mm slot. It has flexible legs that can be positioned to accommodate uneven surfaces, such as on beds and couches, and it can be folded into a smaller size.
CTA Digital 2-in-1 Kitchen Mount Stand
4.4 stars, 476 customer reviews
A kitchen mount stand designed to fit 7″ to 12″ tablets. It can be mounted to walls or under kitchen cabinets, and comes with included hardware. It can be detached from the mounting base and be used as a tabletop stand as well. The arms can be adjusted to suit different angles and the tablet holder rotates 360 degrees.