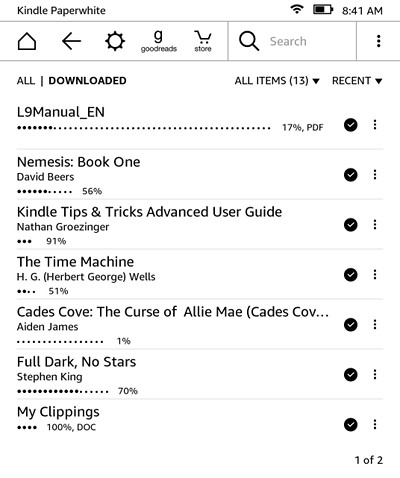 Amazon has another firmware update for Kindle ereaders that they've started rolling out.
The new software version is 5.8.1 (which is weird considering the last version was 5.7.4).
The update is available for the Kindle Oasis, the Kindle Voyage, the entry-level Kindle, and the Kindle Paperwhite 2 and Paperwhite 3.
Like usual you can wait for the update to automatically download and install on its own (as long as you have wireless connected and turned on).
Or you can download the update now and manually install it yourself.
The directions and download links can be found on the official Kindle software updates page at Amazon.
The 5.8.1 update adds four new features (well, three technically). First and foremost, Amazon brought back the dots that they removed a few firmware versions ago. The dots indicate relative book length and a lot of people complained when they took them away so Amazon has brought them back due to popular demand. But they can only be seen using list view; cover view doesn't show the dots.
The significance of Amazon actually listening to customers about this cannot be understated. Now we should all complain that we want more font options and a boldness setting. 🙂
The other new features include the added option to recommend books to friends from the About this Book tab, you can now view Kindle Unlimited recommendations for your favorite genres, and save Wi-Fi passwords to your Amazon account.