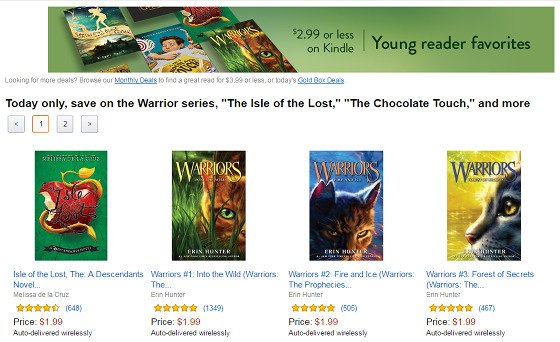 Today Amazon has another Gold Box Deal of the Day for Kindle books, with discounts on ebooks for young readers this time. This is also the last day for the sales on Kindle ereaders and Fire devices.
Amazon has been running more sales on children's ebooks lately to help parents keep their kids interested in reading through the summer, it seems.
Today's deals include the Warrior series, The Isle of the Lost, The Chocolate Touch and others.
Most of the books are marked down to $1.99, a few are $2.99 or $0.99.
A number of Kindle ereaders and Fire devices have been on sale all week for Father's Day as well.
Today is the last day for most of the deals and probably will be for awhile since there aren't any major shopping holidays coming up for some time, so if you want to get something while it's on sale now would be the time to do it. It's hard to beat a Kindle Paperwhite 3 for $99 and a Fire tablet for $39.
Kindle Sales
Kindle – $20 off
Kindle Paperwhite – $20 off
Kindle for Kids Bundle – $20 off
Fire Tablet Sales
Fire Tablet – $10 off
Fire Kids Edition – $20 off
Fire HD 6 – $30 off
Fire HD 10 – $50 off
Other Amazon Sales
Amazon Fire TV – $15 off
Amazon Fire TV Gaming Edition – $15 off
Amazon Tap – $20 off