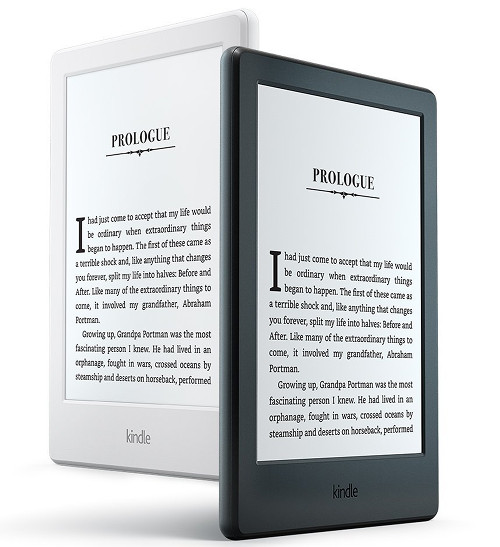 Amazon has a new Kindle available for pre-order from their website. The official release date is set for July 7th.
It's an updated version of their entry-level Kindle. It has a new thinner and lighter design, and now it's available in white as well as black.
The Kindle Paperwhite 3 is available in white now too. It's about time; the white versions have been available in other countries for a long time.
Most of the specs on the new Kindle remain the same as the previous model, and so does the $79 price for the Special Offers version ($99 without ads).
The RAM has been boosted on the new Kindle from the last model so that it can run the TTS and VoiceView software that Amazon recently unveiled with the release of the Kindle Audio Adapter.
However, the adapter is not needed on this new Kindle because it comes with Bluetooth to connect speakers or headphones wirelessly (it still can't be used for other audio, though, and the TTS is a pain to use because it only works with the VoiceView feature that is designed for visually-impaired people).
The new design looks like a definite improvement. I always hated the blocky design of the last model. This new version looks more like the Paperwhite's design. They managed to make it 11% thinner and 16% lighter than the previous Kindle. For some real numbers, it's 1 ounce lighter and 1.1 mm thinner.
The new Kindle still has the same 800 x 600 resolution E Ink Pearl screen as before, and it lacks a frontlight like the other Kindles, but it has the same exact software and the same Kindle features as the $289 Kindle Oasis.
Check back in a couple of weeks for a hands-on review.