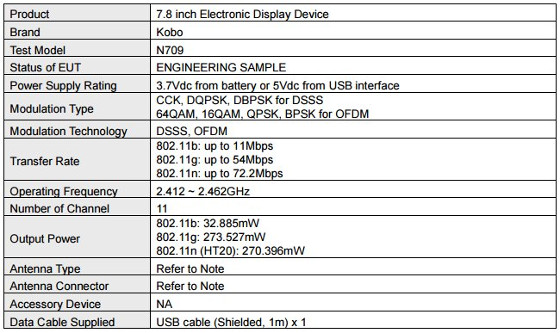 According to some paperwork that showed up on the FCC website this week, Kobo has a couple of new ebook readers in the works that will likely be getting released in the near future.
The information at the FCC indicates the possibility of two new Kobo ereaders, one with a 6-inch screen and another with a 7.8-inch screen.
That's the most interesting thing we've heard regarding Kobo all year, as things have been unusually quiet for the past six months.
The possibility of a 7.8-inch Kobo is really intriguing considering the fact that there haven't been any 7.8-inch E Ink ereaders before.
There are a few 8-inch ereaders but nothing with a 7.8-inch E Ink screen.
The jump up from 6-inches to 6.8-inches really isn't very much, but a 7.8-inch ereader would be significantly different.
It seems kind of odd that E Ink would go through the trouble of making a special size that's less than a quarter inch smaller than what they already make, but it wouldn't be the first time that Kobo got the jump on a new screen. After all, they were the first to release a 6.8-inch ebook reader with the Kobo Aura HD back in 2013.
Perhaps the new device will come with a new kind of E Ink screen tech to go along with the unique size.
Either way we have next to no information to go off of at this point, as the FCC paperwork isn't particularly revealing, so we'll have to wait until Kobo makes an official announcement to know more.
If Kobo releasing a new larger-screen ereader doesn't finally get Amazon to release a larger Kindle nothing will. Hopefully the competition will spur them to do the same.
via: Liliputing