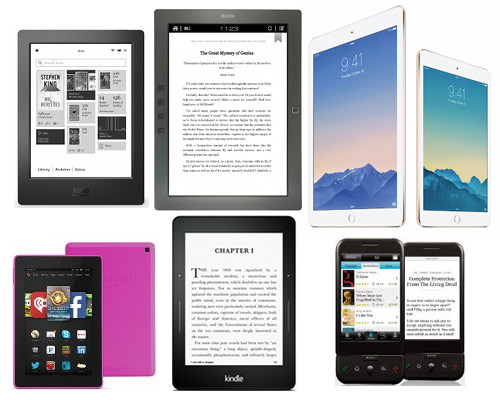 Below is a list of advantages for tablets and ebook readers summarizing the benefits of each when it comes to e-reading.
Some people like using ebook readers to read books and some prefer to read on a tablet or smartphone.
One way isn't necessarily "better" than the other; like most things it just comes down to personal preference.
Some people like the versatility of a tablet or phone better, and others like to have a dedicated ebook reader on hand and wouldn't read on a tablet if you gave it to them for free.
Then there are other folks that like using a combination of both (like me). Dedicated ereaders like Kindles and Kobos are great for reading ebooks, and to some extent PDFs, and tablets are better for things like magazines, comics, web reading, etc. Both are better suited for certain things than the other, but each can be used largely in the same way.
eBook Reader Advantages
No distractions (emails, notifications, etc).
Longer battery life.
Dimmer light.
Easier on eyes.
More reading-centric features (Kindles and Kobo ereaders offer some additional features not available on their tablet apps).
More natural reading experience; E Ink is more like reading on paper than a digital screen.
E Ink screens are easily readable in bright light, even direct sunlight.
Dedicated ereaders are smaller and lighter than tablets, making them easier to hold for long reading sessions.
Some ebook readers have dedicated page buttons—nice to have for reading.
Tablet Advantages
Access to lots of reading apps; you can easily turn a tablet into an ultimate ereader with access to content from just about every source that offers ereading material.
Better as a multi-purpose reader; can handle all forms or ereading well, including web reading, RSS feeds, emails, comics, magazines, PDFs, newspapers, and so on…
Larger screens, with larger font sizes (there are large-screen ereaders too but their high price is unrealistic for most people).
Lower prices.
Lots more choices.
More durable (E Ink screens are more fragile than LCD screens).
More storage space available (usually).
No black flashing or ghosting like with ebook readers when the E Ink refreshes the page.
So what about you? What's your favorite way to read? Do you favor reading on tablets or ebook readers?