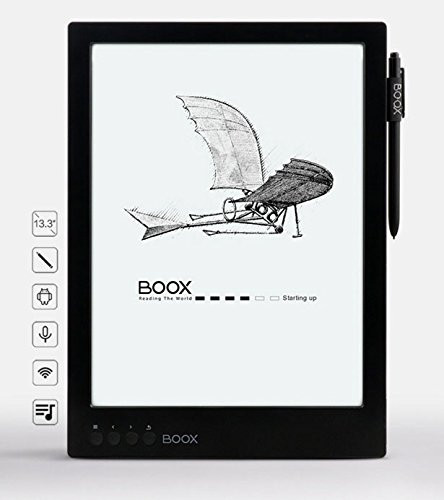 The 13.3-inch Onyx Boox Max is finally starting to become more widely available. It was first released a couple of months ago but production problems slowed things down for several weeks.
Mostly the Onyx Boox Max has been at pre-order status for the past few months; it's good to see it finally becoming available from a few different distributors now.
One Onyx reseller has the Max for sale at Amazon for $799, plus $6.49 for shipping.
Banggood has started selling the Onyx Boox Max as well. They're a wholesale retailer based in China that sells a number of Onyx's ereaders.
They have the price at $745 currently, with 6% off and free shipping. Apparently the regular price is $788 (depending on current currency conversion rates).
A couple of months ago the Max was available for pre-order from Amazon for a little over $650 from a new seller, but then production delays set things back and now that listing still says that it is unavailable. Too bad because that was a good price.
There aren't many options for Onyx ereaders in the US because Onyx doesn't have very many distributors selling their devices.
Meanwhile the 13.3-inch Sony DPT-S1 is on sale for $599. It only supports PDF format so it's not nearly as versatile as the Max but it has the benefit of the added capacitive touchscreen for finger touch as well as a more stable operating system.