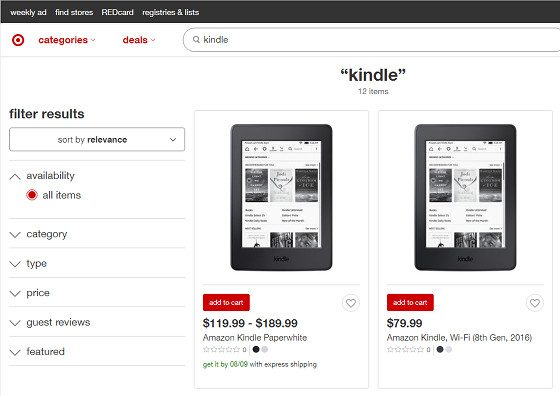 Amazon and Target have partnered up once again after a four-year hiatus to bring Kindle ereaders and Fire tablets back to Target stores across the US.
Target has already started selling a few different Kindle ereaders and Fire tablets from their website, along with Fire TV devices.
Target plans to have Amazon's devices available in retails stores by October of this year.
Target used to sell various kinds of E Ink ereaders, including Nooks, Sony Readers and Kindles, but then Target decided they didn't want to sell Amazon's devices anymore, like they were taking some big stand. Walmart soon followed.
Now the two companies have mended fences so Target can be a retail hub for Kindles and Fire devices again.
With E Ink screens and frontlights it's a good idea to see them in person first to know what you prefer, especially if you are new to E Ink and ereaders.
Best Buy also sells Kindles in retails stores and so does Staples, but they don't exactly do a very good job of it.
On a side note, Target's new website is quite dreadful. It's like using a mobile site on a desktop PC…
via: Bloomberg