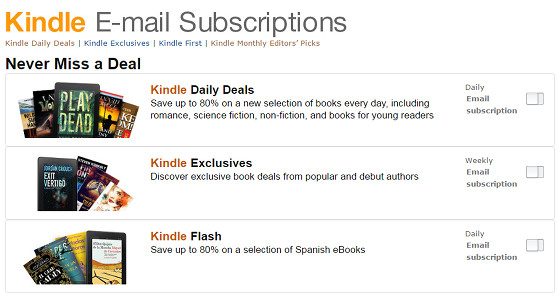 A lot of folks don't know about Amazon's email subscriptions for Kindle content where you can sign up to get alerts about deals and new content that gets added to the Kindle store.
They have email subscriptions for a bunch of different things. Here's the page with the list of subscriptions that you can choose from.
They have email subscriptions for the Kindle daily deals and Kindle exclusives.
You can select to subscribe to get updates about specific genres, including comics, mysteries, and romance, among others.
There's an editors' picks section for monthly picks as well, plus subscriptions for Kindle First and Kindle Singles.
There's also a separate thing called Amazon Follow that lets you follow your favorite authors to get notified of new releases and special announcements.
Too bad the emails don't extend to hardware; they should have deal alerts for Kindle ereaders and Fire devices as well, as often as they go on sale.