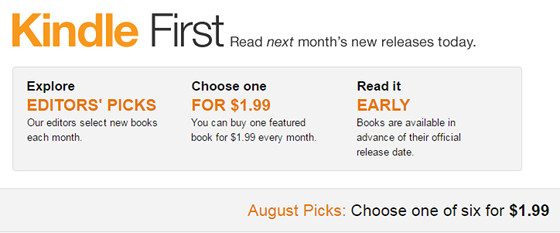 I had pretty much entirely forgotten about Amazon's Kindle First program until I saw the newsletter sign-up option for it while putting together the Kindle email subscriptions article the other day.
Basically Kindle First gives readers early access to a free or discounted ebook each month.
The ebooks in Kindle First are brand new; the program grants access to ebooks a month before their official publication date.
The way it works is there's a selection of 6 editors' picks posted at the beginning of each month, and Kindle First members can choose to download one of the six.
Amazon Prime members can download a Kindle First title of their choice for free each month, and it doesn't count against the free monthly Prime ebook from the Kindle Owners' Lending Library.
For non-Prime members, all you have to do to become a Kindle First member is subscribe to the monthly Kindle First newsletter (located on the Kindle First page).
Non-Prime members cannot download the books for free but they are available at a discounted price of $1.99. However, the books are available through Kindle Unlimited for "free" once they get released.
Kindle First downloads are limited to one per calendar month, and they can be read on any Kindle device or Kindle app.