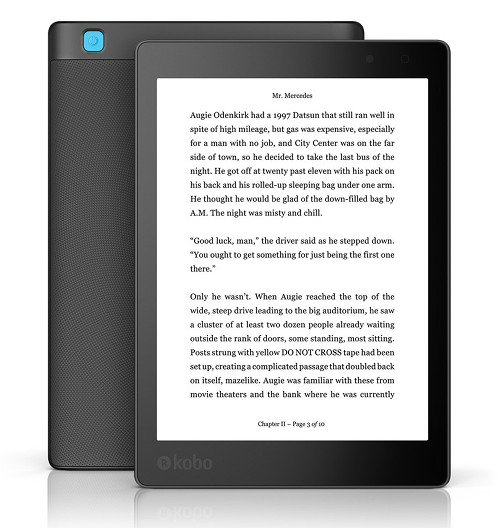 Kobo pulled the veil off their latest ebook reader today, the much-anticipated 7.8-inch Kobo Aura One.
It won't get released until September 6th but pre-orders start on August 30th (kind of a weird way to announce the release a new product—make people wait 2 weeks before they can order it).
Nevertheless, the Kobo Aura One product page is up at Kobo.com with a full description and a list of specs.
The list price is $229 USD, and $249 CAD.
In addition to the larger E Ink screen, the Kobo Aura One also features an ambient light sensor and an auto-adjusting frontlight designed to filter out blue light as the day turns to evening, much like a number of apps for Android and iOS.
Another really cool addition is integration with Overdrive to download ebooks for free from public libraries directly without having to use a computer and Adobe Digital Editions. This applies to public libraries for residents in North America, United Kingdom, Australia and New Zealand.
The device is also waterproof, even more so than the Kobo Aura H2O, with an IPX8 rating, which means it's waterproof for up to 60 minutes in up to 2 meters of water.
Another impressive detail is the fact that the Kobo Aura One only weighs 230 grams. That's actually 3 grams lighter than the smaller Kobo Aura H2O—impressive. However, they're skimping on the battery to achieve that lower weight since it has half the overall battery life as Kobo's other ereaders, even the low end ones (up to 1 month versus 2 months, using some contrived ereader battery life math that doesn't make much sense to begin with).
Check back next month for a full review and some comparisons! There's also a new 6-inch Kobo Aura as well (I posted a separate article about it).
See the press release for more details.
Kobo Aura One Specs
7.8" HD Carta E Ink display.
1872 x 1404 screen resolution (300 dpi).
Waterproof for up to 60 minutes in up to 2 meters of water; IPX8 certified.
Frontlight with ComfortLight PRO to reduce blue light.
8GB internal memory.
Wi-Fi 802.11 b/g/n.
Supported formats: Adobe DRM, EPUB, EPUB3, PDF, MOBI, JPEG, GIF, PNG, BMP, TIFF, TXT, HTML, RTF, CBZ, CBR.
Battery Life: up to 1 month.
Languages supported: English, French, German, Spanish, Dutch, Italian, Brazilian, Portuguese, Japanese, Turkish.
Weight: 230 grams.
Dimensions: 195.1 x 138.5 x 6.9 mm.
Price: $229 USD.
Introducing Kobo Aura ONE