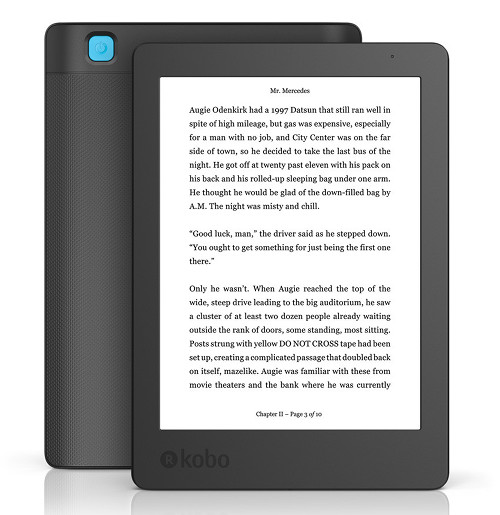 In addition to the 7.8-inch Kobo Aura One that Kobo announced today, they also have a new 6-inch Kobo Aura that's getting released at the same time.
Like the Aura One, it will go up for pre-order starting August 30th and will be released on September 6th, according to the press release.
The new 6-inch Kobo Aura Edition 2 is a bit of a head-scratcher. It has a lower resolution screen than the Kobo Glo HD, and the price difference is only $10.
Quite frankly I don't understand how it fits in the lineup.
It doesn't have any unique or distinguishing features. There's a dot above the screen that makes you think it has a light sensor or something but the description doesn't mention a thing about it.
You can find the product page for the new Kobo Aura 2 on Kobo's website with a description, some pictures, and the list of specs.
As mentioned above, it uses a lower resolution screen for some inexplicable reason, a 1024 x 768 E Ink Cara screen (so we're going back in time a few years again, apparently).
From the pictures and video you can see that the new Kobo Aura has a recessed screen instead of a flush glass screen, which was the number one thing defining the original Kobo Aura.
I don't know about this one. It's about as exciting as the Kobo Touch 2.0 they released last year that you never hear anyone ever talk about using. Good thing for the Kobo Aura One!
Kobo Aura 2 Specs
6-inch Carta E Ink display.
1024 x 768 screen resolution (212 dpi).
Frontlight.
4GB internal memory.
Wi-Fi 802.11 b/g/n.
Supported formats: Adobe DRM, EPUB, EPUB3, PDF, MOBI, JPEG, GIF, PNG, BMP, TIFF, TXT, HTML, RTF, CBZ, CBR.
Battery Life: up to 2 months.
Languages supported: English, French, German, Spanish, Dutch, Italian, Brazilian, Portuguese, Japanese, Turkish.
Weight: 180 grams.
Dimensions: 159 x 113 x 8.5 mm.
Price: $119 USD.
Introducing Kobo Aura