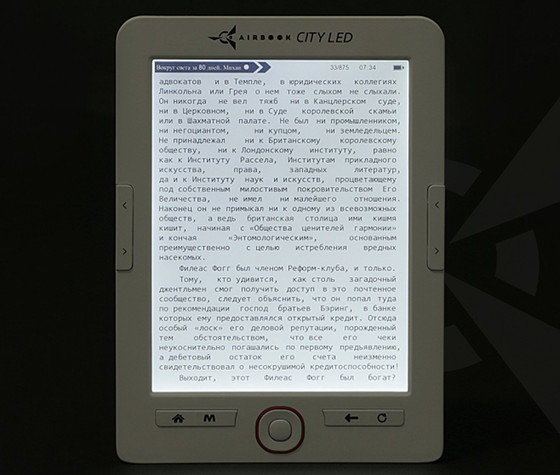 There's a new ebook reader available on Amazon through a third-party seller called Airon, a Ukrainian company.
The new ereader is the Airbook City LED. It's another budget model that only costs $90 with free shipping.
It has a 6-inch E Ink screen with a frontlight, audio support, and memory card slot.
It's very similar to the Airbook City Base that turned up on Amazon earlier this year, which currently sells for $69.
The main difference with the new model is it adds a frontlight. Otherwise they appear to be pretty much identical aside from the color.
Neither models have a touchscreen; instead they have physical buttons for navigating and turning pages.
AirBook City LED Specs
Screen: 6-inch E Ink Pearl.
Screen resolution: 1024 × 758.
Frontlight.
128 MB RAM.
4GB built-in memory.
Battery: 1500mAh Li-Polymer.
MicroSD card slot for cards up to 32 GB.
MicroUSB 2.0 port.
Supported Formats: TXT, EPUB, PDF, FB2, DOC, RTF, CHM, DJVU, ZIP, HTM, HTML, MOBI, PDB, JPG, GIF, PNG, BMP, MP3, WMA.
Dimensions: 6.5″ x 4.5″ x 0.3″.
Weight: 159 grams.