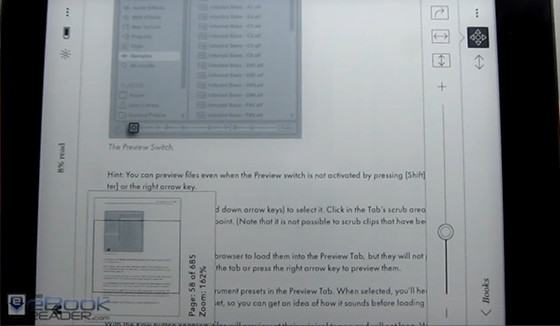 The Kobo Aura One is the latest and most interesting new ebook reader to hit the market. The larger 7.8-inch E Ink screen helps set in apart from all the various 6-inch ereaders currently available.
You would think that the larger screen on the Kobo Aura One would make it a good option for reading PDFs, but the Aura One is a actually pretty disappointing in that regard.
Kobo's software is super basic when it comes to PDFs, and it's rather buggy to boot.
Overall performance seems to vary a lot from one PDF to the next.
Small text-based PDFs open and turn pages pretty smoothly for the most part, but the software really starts to bog down with larger files and with images.
There's a minimum of features. No notes, no highlights, no PDF reflow, no cropping, no dictionary pop-up (you can open the dictionary in a separate window, however).
There's a zoom dial to zoom in, plus pinch-zooming, which only seems to work well with simple text. The zoom level remains when turning pages, but it resets to the top left with each page. Landscape mode works with PDFs, and helps make the text easier to read, but scrolling down the page can be a bit awkward, and sometimes activates when you're just trying to turn pages.
You can add and remove bookmarks by tapping the top right corner of the page. There's also search within PDFs and you can navigate using the table of contents, except there's a bug where it always thinks it's on the first chapter.
Overall the PDF performance on the Kobo Aura One is disappointing. Honestly I find the 6-inch Kindle Paperwhite 3 to be much more functional for PDFs, despite the smaller screen. It automatically crops the excess margins, unlike Kobo, so there's hardly any difference in text size anyway. However, there's an alternate program that can be installed on Kobo ereaders called KOreader that I plan on trying in the near future, so check back for part two of this review in a couple weeks.
Kobo Aura One PDFs Video Review