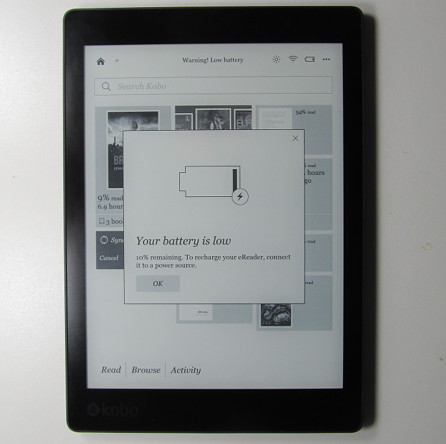 There have been some reports over at MobileRead about the new Kobo Aura One experiencing some kind of battery drain issue that seems to be related to a software bug.
At first I thought my Kobo Aura One's battery level seemed fine, but then all at once when the battery meter gets around 50% it will show huge drops in percentages in just a few hours.
Sometimes batteries need a few charge cycles to get calibrated properly, but this seems to be more of a software issue.
At times syncing gets stuck, but turning off Wi-Fi doesn't help.
So far I've only had the Aura One for 10 days and I've already had to fully charge it three times—something is definitely causing excessive battery drain.
Hopefully Kobo issues a software update quickly before the Aura One gets a reputation for having poor battery life.
The Aura One has a smaller battery compared to other ereaders, presumably to keep the weight down, so one of the big questions about it coming out was how good battery life would be with the smaller battery and larger screen, since more pixels use more power.
At first it didn't seem to have an issue. The initial charge went from 100% to 50% in about 5 days with heavy usage. But then after doing the comics and manga review this past Wednesday it went from around 50% to under 10% in just a couple of hours while sitting in sleep mode.
Then that charge only lasted a couple of days before it was back around 50% again. After reading a few chapters this morning the battery dropped over 25% in just a few hours, and that was with Wi-Fi off and the light at only 1%.
Then as a test I turned Wi-Fi back on and watched as it got stuck syncing and the battery went down another 15% in just matter of 20 minutes, so it's back on the charger again…