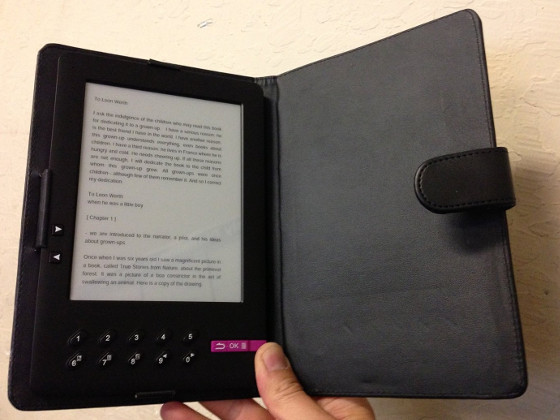 Yesterday I came across one of the cheapest E Ink ebook readers that I've ever seen.
It's generic. It's outdated. And it's probably a piece of junk, but it's only $29 with free shipping from Amazon through a third-party seller, and it even comes with a cover.
The product page gives very little details but it was originally listed in 2013 so it's definitely an older model.
It clearly has an electronic paper screen from the pictures but it could be a knockoff E Ink screen for all we know.
The screen probably has a resolution of 800 x 600 like the entry-level Kindle, but the pictures make is seem like there's a glossy layer over the top because you can see reflections—that's not good.
That's not the only strange thing about this super cheap ereader.
Despite the low price it has some interesting features that you wouldn't expect, like a user-replaceable battery, audio support, and an SD card slot—all things that $200-$300 Kindles and Kobos lack.
According to the description it supports PDF, DOC, HTML, TXT, MP3, CHM, RAR/ZIP, BMP, JPG, PNG, GIF, PPT, LIT, FB2, TIFF, and DJVU formats. The reviews also mention that is supports ePub format. Currently the device has 20 reviews with an overall rating of 3.7 stars.
I wouldn't recommend getting this ereader for anything other than a backup, but it's interesting what kind of features it offers for such a low price. E Ink ereaders rarely dip under $50 because the screens are so expensive.