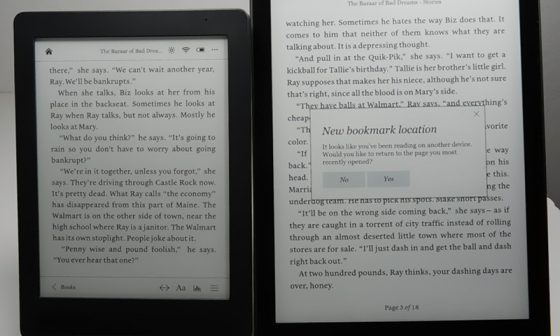 The Kobo Aura One is getting all the attention lately but Kobo actually released two new ebook readers this September.
In addition to the Aura One, they also came out with a new 6-inch Kobo Aura Edition 2 to replace the original Kobo Aura.
I posted a Kobo Aura One review earlier in the week and I've been trying to use the Kobo Aura Edition 2 to post a review of it next, but it's hard to want to use it with the much better Aura One on hand. 😀
I put together a quick video comparison for the two new models showing the difference in size and build quality.
For the most part the software is the same and they share all the same features.
The one exception is the Aura One has OverDrive support built-in for downloading library ebooks directly, whereas the Aura Edition 2 has to have library books sideloaded using a computer.
Perhaps Kobo may add OverDrive support to other models later but it's only on the Aura One at present.
With the larger screen size the Aura One also offers a few more font sizes but that's about the only noticeable difference software-wise.
When it comes to hardware, the Aura One has a 7.8-inch E Ink Carta screen with 300 ppi and the Aura Edition 2 has a 6-inch E Ink Carta screen with 212 ppi. Text is a bit crisper and darker on the higher resolution screen but it's not a big difference.
Both models have frontlights and the Aura One has an auto-adjusting light and the color tone of the frontlight can be customized from bluish to orange. With the Aura Edition 2 it just has a regular manual-adjusting frontlight with no sensor or color tone option. The light on the Aura One is brighter and a bit more even, but lights can vary a lot from one to the next.
The Kobo Aura One is waterproof, which I forgot to mention in the video. The Aura Edition 2 is not.
The other hardware difference is the Aura One has 8GB of storage space, whereas the 6-inch model has 4GB. Neither have memory card slots and both have the same 1GHz processor and 512MB of RAM, so there's no performance advantage either way. Additionally, the Aura One has a capacitive touchscreen and the Aura Edition 2 has an infrared touchscreen.
The larger Kobo weighs 230 grams and the smaller one weighs 180 grams. The Aura One is thinner at 6.9mm to the Aura 2's 8.5mm, but the Aura 2 has the advantage with longer batter life, twice as long by Kobo's own estimates.
In terms of price, the Kobo Aura One sells for $229 in the US and $249 in Canada. The Aura Edition 2 sells for $119 in the US and $129 in Canada.
Kobo Aura One vs Aura Edition 2 Video