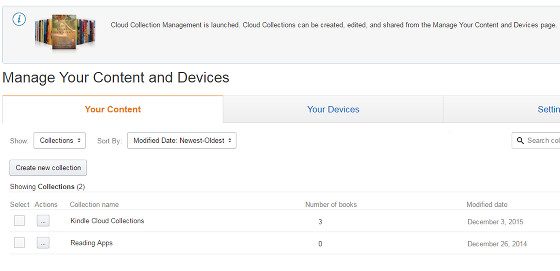 Amazon has just rolled out a new feature that people have been requesting ever since Amazon first launched their Kindle cloud collections feature back in 2013.
If you login to the Manage Your Content and Devices page at Amazon, you'll see a banner at the top of the page proclaiming the launch of Cloud Collection Management.
This new tool lets you created, edit, and share Kindle collections directly from the MYCD page using a web browser.
Up until now all collections had to be created and maintained from a Kindle device or app.
Being able to manage collections with a web browser makes the whole process much faster and easier to accomplish.
Currently the collection management system only extends to Kindle ebooks, not newspapers, magazines, personal documents or other content, but it wouldn't be surprising if more content types get added later down the line.
With the launch of Prime Reading yesterday and this new cloud collection management tool today, it makes you wonder if Amazon is getting set to make a big splash and announce the release of some new devices. They just released an updated Fire HD 8 last month but they usually release something "new" each fall. A larger Kindle would be great, especially after no new Kindles were released last fall for the first time in several years, but that's probably asking too much.