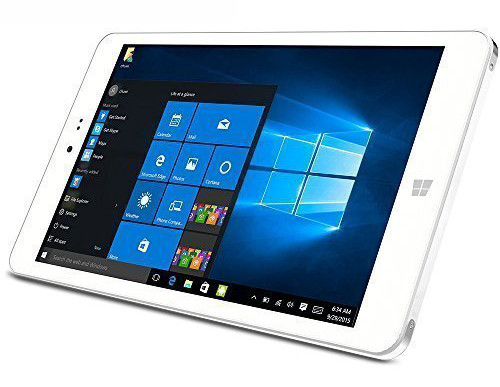 Chuwi has about 47 different tablets on the market and one of their somewhat newer models, the Chuwi Hi8, is a strong competitor to the new Fire HD 8 that was released for 2016.
The Chuwi Hi8 is an interesting tablet. For starters, it's a dual boot tablet that has Windows 10 and Android 4.4 KitKat.
Plus it has better specs than the Fire HD 8 and it sells for the same price at $89.
The biggest step up is the screen. It has an 8-inch 1920 x 1200 resolution screen with 283 ppi—that's almost 100 ppi more than the Fire HD 8.
Other specs for the Chuwi Hi8 included a 2.16GHZ Intel quad-core processor with 2GB of RAM and 32 GB of storage space. It has Bluetooth 4.0, Wi-Fi, stereo speakers, a mic, and a memory card slot that supports card up to 128GB.
The cameras are definitely the weak point, though. It has a 0.3MP front camera and a 2MP rear camera. The battery life probably isn't anywhere near the Fire HD 8's 12 hours either.
I've never tried any Chuwi products before but it looks like an interesting tablet for the price. It definitely has a lot more going for it than the Fire HD 8 if you don't mind using an older version of Android, but at least it's got Windows 10 going for it as well.
If anyone happens to get one of these tablets let us know what you think of it in the comments section below.