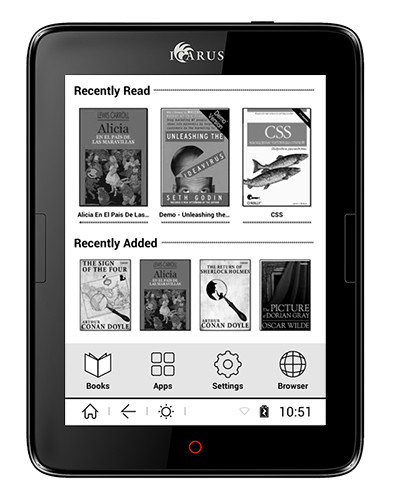 It looks like Icarus is finally getting around to releasing a Boyue T63 clone. They are a little late to the party considering the fact that similar models have been selling for about one year now.
The new model is called the Icarus Illumina, which is the same exact name as the previous three or four models so this is going to get confusing…
This time around the model number for the "Icarus Illumina" is E654BK.
What differentiates this particular model from the rest is the fact that it has a flush glass screen.
Additionally it runs Android 4.2.2 and comes with Google Play to install Android apps.
Other specs include a 1GHz dual-core processor, 8GB of internal storage space, it has a microSD card slot, Wi-Fi, a capacitive touchscreen, a frontlight, and 512MB of RAM.
The specs state that it has Bluetooth support but I doubt that is true because similar models don't have Bluetooth.
Unfortunately it doesn't have a 300 ppi screen; it has a lower resolution 1024 x 758 E Ink Carta screen instead.
The Icarus Illumina is available for pre-order for 119.95€, including VAT, directly from the Icarus website. It will probably get added to other retailer's websites like Amazon once it gets released.
It's the same exact device as the inkBook Obsidian that I reviewed last year, which currently sells from Amazon.com for $119 and Amazon UK for £99.