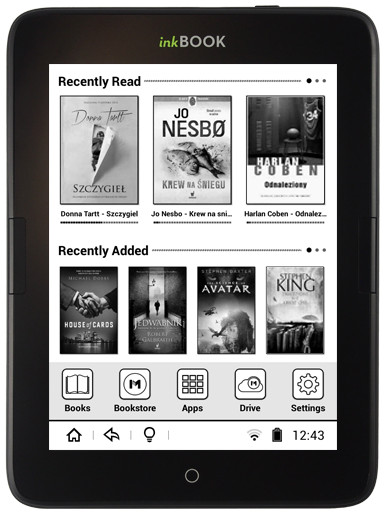 Review Date: December 2015 – Review unit provided by Arta Tech
Overview
The inkBook Obsidian was released in late 2015 by Arta Tech, an ereader company based in Europe. The device is based on the Boyue Shine (T63), and is among the first of its kind to be released.
Last year I reviewed the T61 under the name Icarus Illumina, and earlier this year I reviewed the Energy eReader Pro, which is a rebranded Boyue T62, so now we've got a first look at the T63 with the inkBook Obsidian.
The software is almost identical to the T62, with some subtle differences for Arta Tech's apps. Most of the differences are hardware related.
The inkBook Obsidian sells for $99 from Amazon.com and for £99 from Amazon UK.
Quick Review
Pros
Nice design with flush glass screen and physical page buttons—and it's comfortable to hold one-handed.
Open Android operating system allows for more possibilities and access to lots of reading apps, plus it comes with an appstore preinstalled to install apps.
Good amount of storage space, with a microSD card slot for expansion, which most ereaders don't come with anymore.
The E Ink screen looks great despite the lower resolution compared to some other ereaders.
Cons
Software laggy at times.
Some frontlight shadowing effect visible.
Page buttons don't work with most sideloaded apps, mostly just the built-in apps and apps like Cool Reader and Moon+.
Verdict
The inkBook Obsidian is the nicest 6-inch Android E Ink ereader I've reviewed so far. The overall design is a step up from the others, the screen looks good, and Boyue's software seems to be a bit more stable than Onyx's Android software. The preinstalled reading apps work well—I was especially surprised by how well PDF reflow works—and so do apps like Moon Reader and Cool Reader.
That being said, the inkBook still suffers from the same kind of issues that all Android ereaders suffer from: most 3rd party apps don't work well because they aren't designed for E Ink screens; battery life isn't as good as non-Android ereaders; the page buttons only work with a few apps; and the Android software is less-optimized than what you get on Kindles and Kobos, and it lacks some features that they offer. But on the flip side Android offers more reading options and is open to a lot more possibilities.
InkBook Obsidian Video Review
Hardware and Design
The overall design of the inkBook Obsidian is quite nice. It has a flush glass screen similar to the Kindle Voyage, but there are cutouts for physical page turn buttons instead of sensors. There's a button on each side of the screen and they can be changed in the settings which one pages forward and back. Personally I really like the buttons. They have a nice responsive feel and they are flush with the screen so they aren't easy to accidentally press since they are surrounded by hard material. The only downside is they don't work with most sideloaded apps, even though they did with the T62.
There's also a back button below the screen but it's not a real button it's a sensor. It's kind of redundant because there's a software button on-screen for back as well. I thought I would dislike the sensor as much as the sensor on the new Nook GlowLight Plus since they are in the same spot, but I find it less sensitive so I'm not always accidentally touching it and getting booted out of the book (or maybe the Nook just trained me to stop touching that spot).
From a hardware perspective, the inkBook Obsidian is basically the T62+ in a new shell. The main hardware components are identical, including the 6-inch 1024 x 758 resolution E Ink Carta screen, the two-point capacitive touchscreen, the dual-core 1.0 GHz processor with 512MB of RAM, the 8GB of internal storage space, and the inclusion of a microSD card slot. One notable difference is the lack of audio support on the inkBook Obsidian—it does not have a headphone jack.
Text looks good on the E Ink display, very clear and defined. Some will be disappointed that it doesn't have 300 ppi like other ereaders (it has 212 ppi). Personally I've never considered ereaders with 212 ppi to be a problem (not once have I found myself ever thinking while reading that the text is hard to read and needs to be sharper, but then again I don't use small font sizes).
The frontlight on the inkBook Obsidian has some pluses and minuses. The glass has a nice premium feel to it and the screen looks very clear with the light illuminating from the sides. Some frontlights are yellow in tone, some blue. The tone of this one is pretty neutral, with slightly more yellow tone than blue. For the most part the frontlight is fairly evenly distributed but there are some areas of brighter and dimmer tones, with some shadowy areas at the top of the screen (see video review about 2 minutes in).
The inkBook Obsidian has a capacitive touchscreen that supports two-point touch for things like pinch-zooming. From my experience the touchscreen works well. It does seem to require a bit more pressure than some screens, as I found when doing the video review with it propped on a stand, but I don't have any responsiveness issues when using it normally. Sometimes there's a lag when touching something, like it takes a couple of seconds to respond, but that seems to be OS related and not touchscreen related.
As far as battery life is concerned it seems pretty typical of Android ereaders, which are notorious for draining a battery charge faster than non-Android ereaders. You can probably expect to get about 2 weeks per charge when using it like an ereader with WiFi off most of the time, and 1 week per charge when using it more like a tablet with WiFi on.
Software Features
The operating system on the inkBook Obsidian is based on Android 4.2.2. It's not setup the same as it would be with a tablet—there are a limited amount of settings, a custom homescreen, no widgets and no Google Play access. A person could root the device and probably change all that, of course, but let's just stick with the default software for this review.
Not having the Play Store app isn't a big issue because the inkBook comes with the Midiapolis App Store preinstalled and it's stocked with a wide selection of apps, including several ereading apps. I found that apps like Cool Reader and Moon Reader work really well after setting them up properly, and the inkBook's page buttons even work with both of those apps.
But mainstream apps like Kindle and Kobo don't work very well, and the page buttons don't work with them either. The Kindle app wouldn't install from the Midiapolis App Store so I sideloaded the current version. It installs but it's laggy and page turns don't respond well on the inkBook Obsidian. The Kobo app is more usable but the font choices and layout settings are so minimal that the app is hardly worth using.
The default reading apps work the best because they've been optimized for E Ink. There are two apps that you can choose between as the default from the settings menu, Adobe Reader and FBReader. You can also input your Adobe ID in settings to read ebooks with Adobe DRM. The two ebook apps are slightly different but they have the same general features, like font size and margin adjustment. There are number of font choices to choose from. You can select and copy text, add notes, bookmarks, highlights, and lookup words in the dictionary, which uses the QuickDic app. There's a nice boldness setting to make text thicker and darker. There's also an autopage feature that will automatically turn pages from intervals of 10-80 seconds. Landscape mode is supported, you can run searches within ebooks, and navigate using the book's table of contents.
PDF functionality seems to have been improved, or maybe I just got lucky with the particular PDFs I was testing. You can crop margins, rotate to landscape mode, and increase the boldness of the text. PDF reflow is an option too, and it works really well to increase font size while preserving the layout of things like images, boxes and lists (at least with the PDFs that I tested).
There are a few preinstalled apps but not a lot. There's an Android web browser (not Chrome) that works okay for basic reading and downloading books but it isn't something you'd want to use extensively. There's an email app, a file manager, an image gallery app, a notepad, QuickDic, and a series of Midiapolis apps for the app store, a cloud drive app, and news reader.
The library view for your books is basically a file manager, so you can organize everything into folders with multiple levels. There's a link to Arta Tech's book source too (I assume; it's not in English so I can't read it). The homescreen layout is limited. It shows your recently read and recently added titles, which is fine but it picks up any file that the device supports so it will show random log files and text files the Android OS generates for various apps, which gives the software an amateurish, unfinished feel. You can change which apps appear at the bottom but that's it as far as customization.
The inkBook Obsidian has almost 5.5GB of usable internal storage space, with about 1GB of available space to install apps, so it can handle quite a few. Just keep in mind that it's not a tablet so a lot of Android apps may not work properly or they might be hard to use with a monochrome, slow refreshing display. A number of reading-centric apps run well, and so does Dropbox for transferring books wirelessly, but some apps take some experimenting and trial and error to get everything setup properly for E Ink. That makes the device more suited for advanced users than someone new to ereaders or Android.
There's an optional cover for the inkBook Obsidian that is sold separately. A couple pictures of it are below, and it's also shown in the video. It's a nice sturdy cover and fits tightly. It has a magnet to keep the front closed. The only negative is it doesn't have an auto sleep/wake feature to automatically turn the device on and off when opening and closing the cover.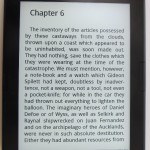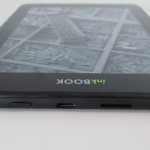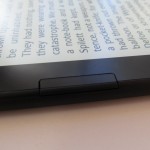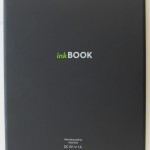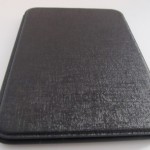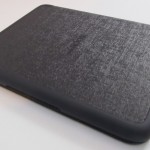 InkBook Obsidian Specs
6-inch E Ink Carta display.
1024 x 758 pixel resolution (212 dpi).
Capacitive touchscreen (2-point).
Frontlight.
Android 4.2.2 operating system.
1 GHz Dual-Core Cortex A9 processor.
8GB storage space (~5.5 GB available).
512MB RAM.
Wi-Fi 802.11 b/g/n.
MicroSD card slot for cards up to 32GB.
Micro USB port.
Battery life: ~2 weeks.
Supported formats: EPUB and PDF (reflow) with Adobe DRM (ADEPT), MOBI (without DRM), TXT, FB2, HTML, RTF, CHM.
Pre-installed apps: Library (Books), Internet browser, Dictionary (QuickDic), Downloads, Midiapolis Drive, Email, File manager, Images, Bookshop, Midiapolis News Reader, Midiapolis App Store, Notepad, Settings, User Manual.
Dimensions: 118 x 158 x 8 mm.
Weight: 196 grams.
Price: $99 from Amazon.com, £99.00 at Amazon UK.