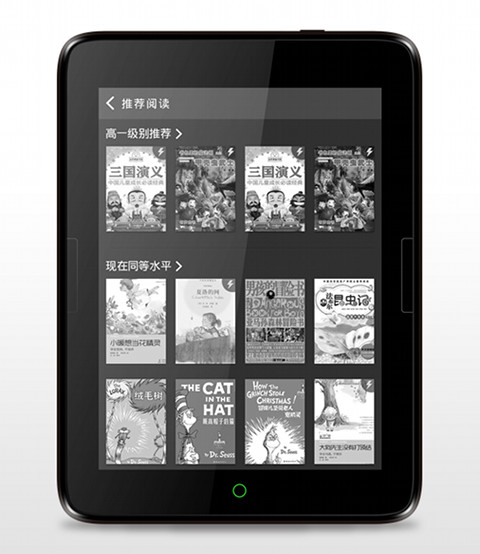 Yesterday when I posted about the new inkBook Onyx ereader that Arta Tech has just released, I initially thought it was made by Onyx since it has Onyx in the name and is being sold by Onyx's authorized retailer, but the device is in fact made by Boyue.
The inkBook looks like the Boyue T61 (aka the Icarus Illumina) but it has some different specs, including an upgraded E Ink Carta screen and twice as much internal storage space.
I went hunting for more information about this newer model on Boyue's website.
I couldn't find anything about it specifically; it looks like Boyue has just upgraded the specs of the T61 without changing the name, similar to what they did with the T62.
I noticed that Boyue has an interesting looking new model called the Boyue Shine listed on their website. There's no information available about it yet, or even a product details page that lists the specs, just a couple of pictures.
What's intriguing about the Boyue Shine is it appears to have a flush front screen, similar to the Kindle Voyage and Kobo Aura, as indicated in the picture below.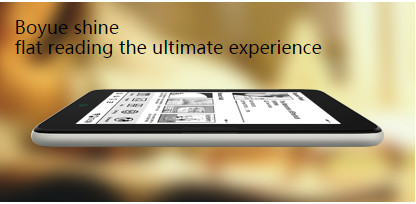 One puzzling detail to note about the picture at the top of this article is that there appears to be buttons on each side of the screen, which doesn't make sense if the front screen is flush glass. Maybe they are sensors similar to what the Kindle Voyage uses, or maybe it's something new.
The green circle also appears to be a button or sensor below the screen. The overall design definitely looks like it was inspired by the iPad.
Boyue's other ereaders, the Boyue T62+ and T61, both come with 8GB of storage space, E Ink Carta screens, frontlights, microSD card slots, WiFi, and Android 4.2. It's pretty safe to assume the Boyue Shine will at least have those features too. Hopefully it will have a 300 ppi E Ink screen like the new Kobo Glo HD and the Kindle Voyage.
So far there's been no word on an official release date for the Boyue Shine, but I'll let you know when it turns up for sale somewhere.