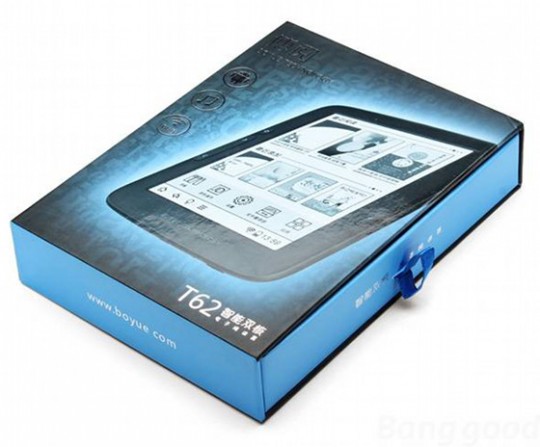 The Boyue T62 is one of the best options for an Android-powered E Ink ebook reader on the current market, and it recently got even better with the release of the Boyue T62+, a newer updated version.
There appears to be only one main difference between the T62+ and the regular T62: the screen. The original T62 has an E Ink Pearl display, and the plus model features E Ink's newer Carta screen technology.
It's virtually impossible to tell the difference between the two different types of screens unless you place them side-by-side, as noted in my E Ink Carta vs Pearl review.
Carta screens have slightly better contrast, text is darker and the background color is lighter, with more of a subtle yellow hue rather than grey.
E Ink claims that Carta screens have 50% better contrast than Pearl screens. In reality the difference doesn't seem anywhere near that great, but there is a noticeable improvement, so it's good to see the Boyue T62 getting updated to the latest screen tech.
What's even better is that the price has remained the same. The Boyue T62+ sells for $118 with free shipping from Banggood.com. It's also available on eBay for $135 and from third-party merchants at Amazon, but the price is much higher at $175.
Last month I reviewed the Energy eReader Pro, which is a rebranded T62, and it's definitely one of the better and more stable Android-powered ebook readers on the market. The only problem with the Boyue version is they don't come with Google Play pre-installed to install Android apps; you have to root the device and install Google apps yourself, whereas the Energy eReader Pro comes with Google apps preloaded.