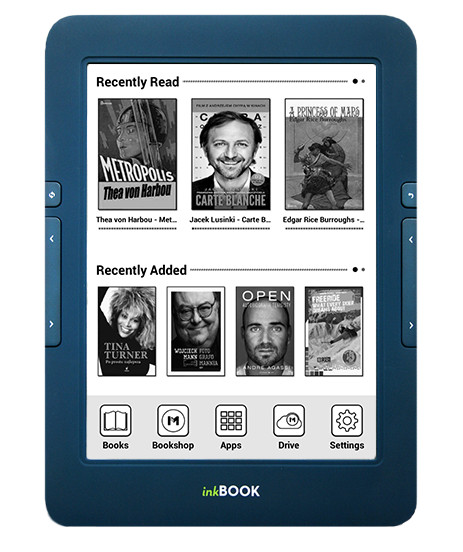 Today Arta Tech announced the released of a new ebook reader available on Onyx-Boox.com called the inkBook. It's available to order for 124 euros.
The inkBook is a 6-inch ebook reader with an E Ink Carta display, a capacitive touchscreen with multitouch support, a frontlight, it has physical buttons on each side of the screen, and it supports a number of formats, including DRM'd ePub and PDFs.
Other specs include a dual-core 1.0 GHz processor, 512 MB of RAM, Wi-Fi, 8GB of internal storage space, a microSD card slot, and a 2000 mAh battery, which is quoted as lasting up to 6 weeks.
The device runs Android 4.2.2 and it supports installing Android apps, although it does not come with Google Play like some other Android ereaders. It comes with the Midiapolis appstore instead, which appears to run through the Aptoide appstore. A number of ereading apps are highlighted, like Kindle, Nook, Cool Reader, Kobo, FBReader, and Goodreads.
Even though the device is called the inkBook Onyx, it's actually not an Onyx-branded ereader at all—it's made by Boyue—even though it's a lot like the Boox C67ML, especially the newer model with a Carta screen and 8GB of storage, but the inkBook doesn't support audio and the buttons and design are different. Plus it's about 10% lighter. The inkBook looks like it's a newer updated version of the Boyue T61 perhaps.
Update: This article has been updated to indicate that the device is manufactured by Boyue and not Onyx. The fact that they call it the inkBook Onyx is a bit confusing to say the least. Also, Arta Tech plans to sell the inkBook from Amazon in the near future. When that happens I plan on ordering one to review, so stay tuned for more updates.
InkBook Specs
6" inch E Ink Carta display.
1024 x 758 px resolution (212 dpi).
Capacitive touchscreen (2-point).
Built-in frontlight.
Android 4.2.2 OS.
Processor: Dual-Core Cortex A9 1.0GHz.
512 MB RAM.
8GB internal storage space.
Memory card slot (up to 32GB).
Micro USB 2.0.
Wi-Fi (802.11b/g/n).
Supported formats: Adobe DRM, PDF, EPUB, TXT, HTML, RTF, FB2, MOBI, CHM.
Battery: 2000mAh Li-Polymer.
Dimensions: 159 x 117 x 7mm.
Weight: 200 grams.