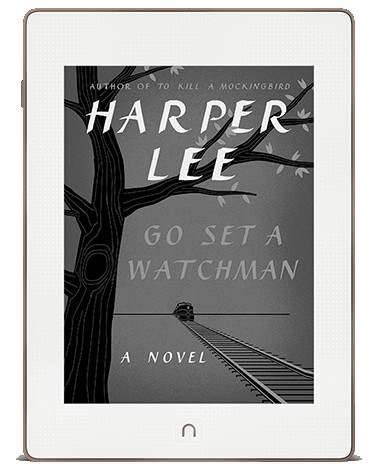 Review Date: November 2015 – Review unit purchased from B&N
Overview
The Nook Glowlight Plus is Barnes and Noble's 5th generation Nook ebook reader. Its release comes 2 years after the last Nook Glowlight.
The new Plus model adds the latest 300 ppi E Ink screen as well as a water-tight design and a more premium look and feel with a flush screen and aluminum body.
The Nook Glowlight Plus has a retail price of $129 (10% less for B&N members). There's just the one model that comes in white, and it's only sold in the U.S.
Quick Review
Pros
Waterproof.
The frontlight and high resolution 300 ppi E Ink Carta display look great, much better than previous Nooks.
Higher-end design than most ereaders with aluminum body and flush screen.
Cons
The "n" button sensor below screen is too easy to accidentally press, which boots you back to the homescreen.
The aluminum back is nice from a quality perspective but it's cold and slick from a user perspective—a cover is needed.
Basic software with less features than other ereaders.
Average battery life is closer to two weeks than the advertised 6 weeks.
Verdict
Like previous Nooks, the Glowlight Plus has some good things going for it that help separate it from the crowd, and it also has some limitations that hold it back.
The Nook excels in the hardware department with the high quality screen, the premium design, and the fact that water won't damage it. In terms of software, the Nook is less-optimized than Kindles and Kobos, and it lacks a number of features that they offer.
Nonetheless, the Glowlight Plus does provide a pleasant reading experience. The high resolution screen and frontlight look fantastic, giving it one of the best-looking screens on the market.
Nook Glowlight Plus Video Review
Hardware and Design
The Glowlight Nook Plus has a completely new design that hardly resembles the old Nooks. The front is all on the same level instead of being indented for the screen, the back is made of sturdy aluminum, and the whole thing is seamless and sealed to make it waterproof.
The one common theme among Nooks is the "n" button below the screen, but it's not actually a button on this model—it's a sensor.
Me and sensor buttons have a long history of not working well together, and this one is no exception. All you have to do is slightly brush a thumb past it and it boots you out of the book and back to the homescreen. You learn to adjust to avoid touching the spot after awhile, but I can't help but remember how much better the real "n" buttons worked on previous Nooks.
The Glowlight Nook Plus has a unique texture coating the bezel, sort of anti-slip grip. It does help keep the Nook from slipping out of your hand, especially with the slick metal back and narrow sides.
The screen and frontlight are the strong points with the Glowlight Plus. The 300 ppi E Ink Carta screen doesn't disappoint, and the frontlight is a big step up from the previous Glowlight Nook. The light is very even and it has a bluish white tone that gives the screen background a nice whitish paper look.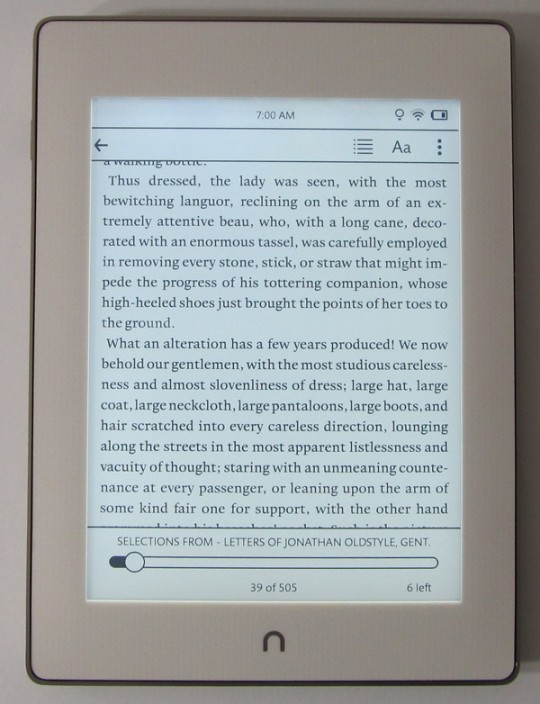 There are no page turn buttons on this Nook. Instead you turn pages with either a tap or a swipe of the capacitive touchscreen.
Like the previous Nook, there is no memory card slot on this model, just 4GB of internal storage space, with about 2.6 GB usable.
Software
The software on the Glowlight Nook Plus has a different look and feel than previous Nooks; it seems like they've reworked the software a bit but overall it still basically offers the same features as before.
There are a couple of new things, like B&N Readouts, user profiles, an estimated reading timer for chapters, and it now keeps a list of words that you've looked up in the dictionary for each book.
One new thing with the software is they made it so a header appears on every page of an ebook to display the title of the book (Kobo does the same thing). But unlike Kobo, there is no patch to get rid of it. I guess some people like to be reminded of what book they are reading on every single page. Personally, the inch of wasted space bugs me. So does the second inch of wasted space at the bottom of the page to display the page numbers. The software effectively takes a 6-inch display and turns it into a 4-inch display. I don't get it.
The software has a bit of an unfinished feel to it at times. Things like scrolling and navigating could be smoother, and sometimes the E Ink refreshes too much or not enough. The recent reading icon only works with B&N books, not sideloaded books. PDF support is as bad as it gets on a dedicated ebook reader (there are no zooming or reflow options whatsoever). And the library view isn't easy to navigate with more than a few dozen titles.
I've experienced a few freeze-ups as well where the device became unresponsive for a few minutes. A couple of times things have suddenly stopped working right (once the header disappeared, which I was fine with, and another time the home button stopped responding, which I was fine with too because then I couldn't accidentally press it like usual).
They also forgot to add Adobe DRM support at launch, a pretty big oversight that someone should have tested along the way before release. Some Nook owners have received a software update that says it adds Adobe DRM support, but it's unclear if it actually works (my Nook still hasn't gotten the update).
So basically it's the same story with B&N and the Nook as it's always been. There's little attention to details, what the customer wants doesn't matter—take it or leave it.
All that negativity aside, I do actually enjoy reading ebooks on the Nook Glowlight Plus. The screen looks great, and I've taken a shine to the included Malabar font, but I think the other font choices are poor and the device would greatly benefit from more line spacing, margin, font size and font choice settings.
Do I think B&N will add any new features or fix existing flaws? No. No, I do not. With past Nooks, B&N has shown they have little interest in improving software once a device is released. I wouldn't expect a single change to be made from this point forward, except maybe the addition of functional Adobe DRM support, but I wouldn't even bet on that.
Nook Glowlight Plus Android Apps?
Some people are going to want to know about hacking the underlying Android 4.4 operating system that the Nook Glowlight Plus's software is based on.
Android apps can indeed be installed on the Nook for those with some technical know-how, but not by any easy means. Currently apps have to be installed via ADB, which requires using a command prompt to send commands to the device. That's more of a hassle than most people are willing to go through, myself included.
Personally I have zero interest in running Android apps on the Nook Glowlight Plus anyway. The OS isn't optimized to run apps, most Android apps aren't optimized for E Ink either, so it just ends up being a maze of frustration and a big waste of time. There are number of Android ereaders already on the market that don't require any hacking or extra work to install apps, so I doubt there will be enough developers interested in hacking the Nook to a point where things are optimized enough to run smoothly and make it so everything is easy to install.
Nook Glowlight Plus Reading Features
Notes and Highlights: Hold down on a word to bring up the option to highlight and add text notes using the onscreen keyboard. There's no option for exporting, however, and highlighting across pages doesn't work.
Bookmarks: Tapping the upper right hand corner of the page adds and removes bookmarks when reading.
Font Choices: The Nook Glowlight Plus includes 6 fonts types and 10 font sizes. Font choices include: Mundo Sans, Baskerville, Georgia, Ascender Sans, Malabar, and Joanna Sans.
Text Adjustment: The Nook software offers three line spacing and margin adjustment settings for ebooks. The sizes vary depending on the book.
Dictionary: If you hold down on a word you get the option to access the dictionary, which opens a separate window for the dictionary, where you can run searches as well. There doesn't appear to be anyway to change the dictionary, however, and the text is a difficult-to-read light gray for some annoying reason.
Search: You can run searches from within ebooks for a word or phrase. There's also a search button on the homescreen to search your library and B&N's bookstore.
Navigation: Each book has a table of contents for navigating, you can also enter a specific page number, and there's a page dial to jump randomly.
Sharing: You can share to Facebook by adding a Facebook account.
PDF Features: No zooming options or reflow or landscape. Otherwise the same reading features as ebooks. Not recommended for PDFs.
Estimated Reading Time: This new Glowlight Nook Plus adds an estimated reading timer. You have to tap the screen for it to appear in the lower right corner. It gives an estimate of how long it will take to finish reading the current chapter.
B&N Readouts: A new book discovery tool that gets refreshed daily with book excerpts and magazine articles in popular genres and topics.
Profiles: This is the first Nook ereader to support profiles, which lets users setup separate profiles for kids and other adults to share the device.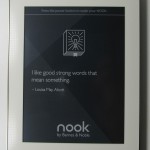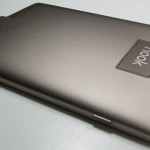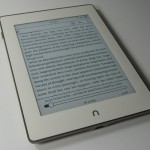 Nook Glowlight Plus Specs
6-inch E Ink Carta display.
1448 x 1072 pixel resolution (300 ppi).
Waterproof: IP67 certified, waterproof in fresh water for up to 30 minutes at a maximum depth of 1 meter.
Frontlight.
Capacitive touchscreen, 1-point touch.
1 GHz Freescale processor.
4GB storage space (2.6 GB available).
Wi-Fi 802.11 a/b/g/n.
Free Wi-Fi in all Barnes & Noble stores and at 30,000 AT&T hotspots nationwide.
Micro USB port.
Battery: Up to 6 weeks (2-4 weeks more likely).
Supported formats: EPUB and PDF.
Dimensions: 119.6 x 163.6 x 8.6 mm.
Weight: 195 grams.
Additional Reviews