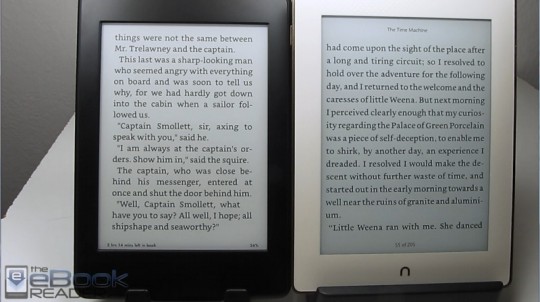 Now that there's a new Nook on the market people are going to want to know how it compares to Kindles. So for this review I'm going to outline how the Nook Glowlight Plus compares to the Kindle Paperwhite 3. I'll briefly discuss how the Nook compares to the Kindle Voyage as well.
First off, the frontlights are good on all three devices but the lights are quite different in tone. The Nook Glowlight Plus's light has more of a whitish blue tint to it, which helps make the background appear whiter and ironically more paper-like.
The Kindle's light has more of a yellowish orange hue. However, in direct sunlight and bright light the Paperwhite and Voyage have a noticeably lighter background, where the Nook's is darker gray.
For more details about each individual device, refer to their reviews: Kindle Paperwhite 3 Review & Kindle Voyage Review & Nook Glowlight Plus Review.
Similarities
They have the same 6-inch 300 ppi E Ink Carta screen.
Good frontlights with a wide range of brightness settings.
Same 1GHz processor.
4 GB internal storage.
No memory card slots.
WiFi.
Micro USB ports for charging and transferring content.
Up to 6 weeks battery life per charge (2-4 more likely).
Each connects to their respective stores for purchasing ebooks.
No physical page buttons.
Capacitive touchscreens.
Similar line-spacing, margin, and font size options.
Each has limited font choices, unfortunately.
Each offers highlights, notes, search, dictionary, sharing on Facebook, bookmarks, estimated reading time.
1 year warranty.
Kindle Paperwhite 3 Differences
Touchscreen supports two-point touch for pinch-zooming.
Has a basic web browser for reading online and downloading DRM-free books.
Better PDF support (Kindle Paperwhite PDF review).
Several languages supported.
X-Ray feature that provides additional details about characters, places, and terms in ebooks.
Landscape mode.
Can set different dictionaries and create custom dictionaries.
The ad-supported models show ads on the lockscreen and homescreen; it costs $20 extra to remove ads.
3G wireless optional.
View popular highlights and public notes other readers have left in the book.
Annotations can be exported.
Partial page refresh can be turned on and off.
Search Wikipedia from within an ebook.
Prime members can borrow 1 free ebook per month (select books only).
Translate words using Bing Translator.
Send to Kindle apps and custom Kindle email address makes emailing ebooks and documents to the Kindle Paperwhite easy.
Can have ebooks from public libraries wirelessly delivered.
Goodreads integration.
Parental controls, children's profiles, and Kindle FreeTime.
Kindle Unlimited access.
Set device passcode.
Page scan window and bookmarked page previews.
Vocabulary builder feature.
Recommended titles can be hidden on the homescreen (with the Nook they are always present).
Nook Glowlight Plus Differences
Waterproof.
Premium design with flush glass screen and metal back.
Textured bezel.
Weighs 10 grams less.
No pinch zooming.
Can read ebooks for free at B&N stores for 1 hour daily.
Runs Android 4.4 under the hood.
Android apps can be installed via ADB (not very easy for the average person, however).
B&N Readouts.
Supports profiles for sharing the device with other adults and kids.
Home button sensor (n) below screen.
No screensaver ads.
Customer support in B&N retail stores.
Supports ePub format.
Kindle Voyage Comparison
The Kindle Voyage shares the same exact software as the Kindle Paperwhite and the similarities and differences listed above apply to it as well, so there's really no point in doing a separate comparison review for it when there are only four additional details to point out:
Page turning sensor buttons.
Haptic feedback when pressing page sensors.
Auto-adjusting frontlight.
Smaller: 1 mm thinner and 15 grams lighter than Nook Glowlight Plus.
The Verdict
As I have all three ereaders sitting here in front of me, I'd rather read on the Nook Glowlight Plus because I like the Malabar font much better than any of the font choices on the Kindle, and I like how the frontlight makes the background appear whiter. But then I can't help but get annoyed with the giant header and footer on the Nook, and the the fact that I keep getting booted back to the homescreen by inadvertently touching the super-sensitive "n" sensor below the screen.
Once again B&N is keeping up with Kindles in terms of specs and hardware, and they've even surpassed them by adding waterproofing, but the software and overall features continue to lag behind, and the attention to details just isn't on the same level as Kindles.
The Glowlight Plus is a good alternative to the Kindle, and it's good to see B&N remaining in the game, but the Kindle Paperwhite and Kindle Voyage unquestionably have the edge in terms of features. And they provide a smoother overall user experience for everything from shopping for ebooks to sideloading your own documents and ebooks.
Video: Glowlight Plus vs Paperwhite 3