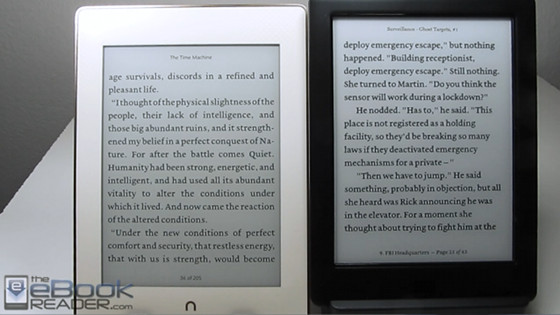 Now that Barnes and Noble has released the new updated Nook Glowlight Plus, I wanted to put together a quick comparison between it and the Kobo Glo HD.
Both are very similar ebook readers. They share most of the same hardware components and have a number of overlapping features; the design and software is what separates them the most.
For more details about each individual device, refer to their reviews: Kobo Glo HD Review & Nook Glowlight Plus Review.
Similarities
Both have the same 300 ppi E Ink Carta screen.
Both have nice evenly-lit frontlights with a wide range of brightness settings.
Same 1GHz processor.
4 GB internal storage.
No memory card slots.
Both have WiFi.
Micro USB ports for charging and transferring content.
Both claim up to 6-8 weeks battery life per charge, which is pretty far-fetched in both cases.
Both have on device stores for purchasing ebooks.
No page buttons.
Both cost $129.
Kobo Glo HD Differences
More font choices, plus you can sideload fonts.
Customizing font weight makes the text appear a lot darker than on the Nook.
More formatting settings for line spacing, margins, and justification.
Better screen contrast without the added glass layer.
More formats supported.
Advanced reading stats.
Works with Pocket to send web articles to the reader.
Can get rid of the header and footer with the full screen patch.
Partial page refresh settings.
Has a basic web browser for reading online and downloading books (the Nook has a hidden web browser and it's hidden because it doesn't work very well).
Better PDF support.
15 grams lighter.
More languages supported.
More dictionaries, including translation dictionaries.
Infrared touchscreen with two-point touch for pinch-zooming.
Battery life seems a little better.
Nook Glowlight Plus Differences
Waterproof.
Premium design with flush glass screen and metal back.
Textured bezel.
Capacitive touchscreen.
No pinch zooming.
Can read ebooks for free at B&N stores for 1 hour daily.
Easily available in the US from retail locations and online (Kobo's aren't sold from retailers in the US).
Runs Android 4.4 under the hood.
Android apps can be installed via ADB (not very easy for the average person, however).
B&N Readouts.
Supports profiles for sharing the device with other adults and kids.
Home button sensor (n) below screen.
As of this review, the Nook does not support Adobe DRM, so that's a big negative.
The Verdict
Comparing these two ereaders, it's pretty obvious that the Kobo Glo HD has the edge in terms of software features and the Nook Glowlight Plus has the hardware advantage with the premium design and the fact that it's waterproof.
The Glo HD has a more budget design compared to the Nook but the software is a lot more advanced, so unless the waterproofing and hackable Android OS mean a lot to potential customers it's hard to see many people choosing the Nook over the Glo HD, especially when B&N makes it so people can't download their purchased ebooks for backup and neglects to add Adobe DRM support for library ebooks and books purchased from other sources.
Video: Nook Glowlight Plus vs Kobo Glo HD