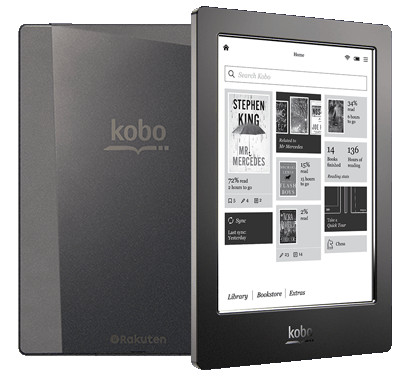 While working on the Kobo Aura H2O review, I came across a tip mentioned at MobileRead that enables the option to turn off the header and footer from displaying to enter full screen reading mode.
The full screen option works with both Kobo ePubs (.kepubs) and regular sideloaded ePubs.
Personally I've always been annoyed by all the wasted space the header and footer creates on Kobo eReaders, especially the Kobo Mini with its smaller screen. I was irritated by it again when starting the review for the Kobo Aura H2O, and was glad to find this full screen tip.
I couldn't find the source or any directions at MobileRead, but managed to piece things together from a couple comments. I'm not sure what firmware version is required for it to work, but it should work on all the different Kobo ereader models since they all use similar software.
All you have to do to get full screen mode is add a couple of lines of code to the Kobo ereader's config file. Doing this adds a new option to the Reading Settings menu to turn the header and footer off. Since the option already exists, it should be coming an official feature at some point in a future firmware upgrade.
How to Enable Full Screen Mode
1. Plug your Kobo ereader into a computer with a USB cable and enter computer transfer mode.
2. On Kobo devices there's a folder called Kobo eReader.config. It's located on the Kobo drive in the .kobo folder inside the Kobo folder.
3. Right-click on the Kobo eReader.config file and choose to open it with a basic text-editing program like Notepad.
4. Add the following code to the file at the bottom, or anywhere as long as it's separate from the other code:
[FeatureSettings]
FullScreenReading=true
5. Safely eject your Kobo ereader from the computer. Then open the settings menu and go to Reading Settings. There's now a checkbox to show the header and footer.