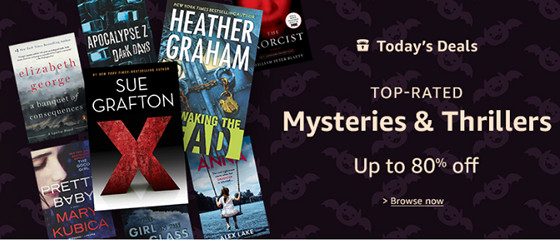 Amazon is having another 1-day sale on Kindle ebooks today as one of their Gold Box Deals of the Day.
This time around the deal takes up to 80% off select top-rated mysteries & thrillers, one of the more popular categories when it comes to Kindle ebooks.
There are more titles on the list than usual so you have plenty of books to choose from.
This time the deal includes 45 books.
Even some Marvel comics made the list that are based on Stephen King's The Stand.
The ebooks are all priced at $0.99 to $3.99, with one priced at $4.99. Most are considerably more expensive regularly.
Here lately Amazon has really been into running these 1-day only sales on Kindle ebooks, and it's almost always on Sundays. They've been doing it every week or two lately, a lot more frequently than they used to.
Check back tomorrow for the weekly roundup of ten free Kindle books!