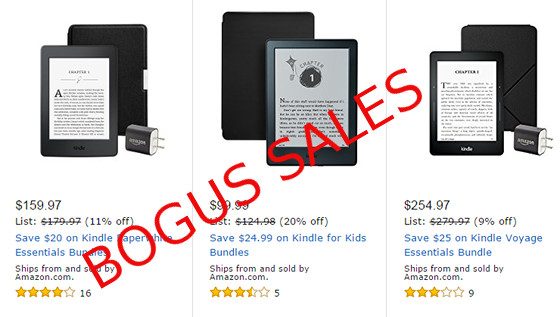 It's time for another ebook reader rant. This one has been bugging me for awhile now, and Amazon just keeps doing it over and over again hoping to take advantage of people that aren't paying close attention.
Usually Amazon is fair and on the level when it comes to advertising and not intentionally misleading people, but that's not always the case.
For some reason Amazon feels compelled to advertise bogus sales on certain Kindle models, and they do so regularly.
I would expect to see these kind of tactics from companies that are struggling to stay in business but not from Amazon.
If you go to the Todays' Deals page and select "Kindle" from the list you'll see what I'm talking about.
Some of the deals are legitimate sales, but a good share of them are completely fake.
For example, Amazon advertises the Kindle for Kids bundle as being marked down by $25, a savings of 20%. But it's priced at $99. That's the price that it always sells for; it has never sold for more than that. It's not a sale at all. It was "on sale" last week when it was $79. Now they are just flat out lying.
It's the same story with the Fire HD 6. They try to make it seem like it's on sale for $69 but it's actually been at that price for several months now.
You can't call something a sale when it sells for that price all the time. It's misleading and it's dishonest.
They do the same thing with their various Kindle bundles as well. They advertise them on the sales page like they are a daily deal when in fact they are selling for the same price they always sell for—they aren't really "on sale" at all. They just purposely inflate the regular price higher than it ever sells for to make it seem like they are on sale when they aren't on sale at all.
Amazon needs to shed these phony sales tactics and just stick to legitimate offers instead of trying to fool people into thinking they are getting a good deal when in fact they are not.