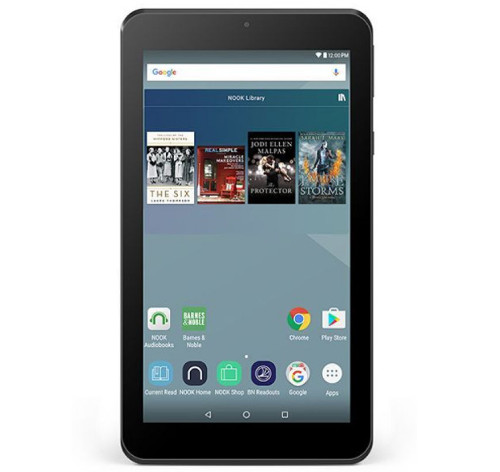 Today Barnes & Noble announced the upcoming release of a new Nook Tablet that's basically a clone of the current $49 Fire tablet from Amazon.
The new Nook Tablet is not a Samsung-branded device like Barnes & Noble's other tablets. Instead they went the cheaper route to get the price competitive with Amazon's offerings.
The new Nook Tablet has mostly the same specs as the $49 Fire tablet.
Both have low resolution 7-inch IPS screens (1024 x 600) with 171 ppi.
Both have 8GB of internal storage space (although there's a 16GB option for the Fire) and a microSD card slot for cards up to 128GB.
Battery life is rated at up to 7 hours for both tablets as well.
The Nook Tablet appears to have a couple of advantages, including dual-band Wi-Fi and higher MP cameras.
But in typical Barnes and Noble fashion they don't post any detailed specs for the device so it's hard-telling how it really compares to the $49 Fire tablet.
The product page doesn't say anything about what processor it uses or the amount of RAM it comes with. Bluetooth isn't mentioned anywhere, and it doesn't say anything about having speakers or a microphone.
At least the press release gives a few extra details, like the fact that it has a quad-core processor and Bluetooth.
As far as software, the new Nook Tablet runs Android 6.0 Marshmallow and it comes with Google Play access. That's another advantage over the Fire tablet, which has Amazon's custom software that requires installing Google Play separately on your own.
The new Nook Tablet officially gets released on November 25, Black Friday. It's available for pre-order now from B&N.com.