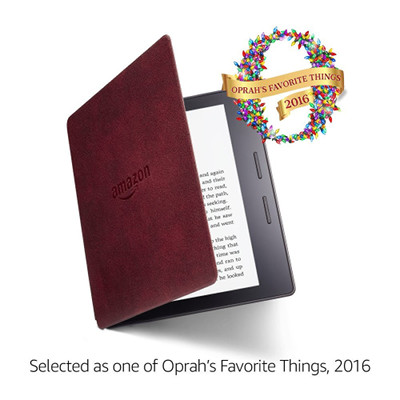 This morning I happened to notice the product page for the Kindle Oasis has been updated to include some big banners proclaiming that the Kindle Oasis was picked as one of Oprah's favorite things for 2016.
It's kind of funny to think of an ereader getting officially endorsed by a celebrity, but Oprah is probably about the only celebrity that can pull off promoting a dedicated ebook reader of all things.
It makes you wonder how much it will do to boost overall sales for the Kindle Oasis.
There's no denying the Kindle Oasis is Amazon's least popular Kindle at the moment, and the high price is undoubtedly the main reason for that.
Even with Oprah's seal of approval, the Oasis still isn't on Amazon's best seller list for electronics like the other Kindles, and it's not on the current "movers and shakers" list either.
Perhaps it will take a bit longer for the Oprah effect to get rolling.
One thing that's not going to help increase sales is the fact that the Kindle Oasis doesn't appear to be included in any of the upcoming Kindle sales for Black Friday and beyond.
It took Amazon over a year to ever discount the Kindle Voyage so I guess the lack of sales for the Oasis shouldn't be surprising.