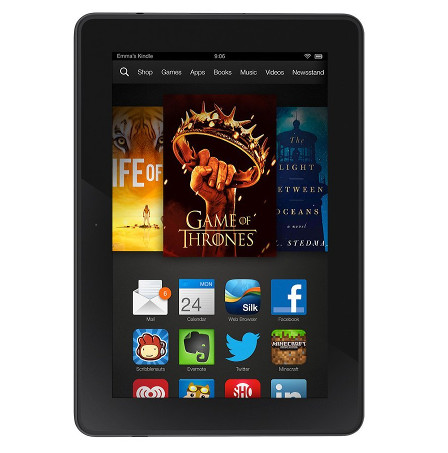 Lately Amazon has been selling their older 7-inch Kindle Fire HDX tablet (never mind, now it's gone again).
It was originally released back in 2013 when Amazon still called their tablets Kindles. It's a 3rd generation model; now they're up to sixth gen with the latest Fire HD 8.
It's kind of strange for Amazon to suddenly bring back an older model after it's been unavailable for quite some time.
Some people like the older HDX line better than the current models because of the high resolution screen.
Amazon used offer tablets that were a bit more expensive with high resolution screens good for ereading.
Now Amazon tries to offer tablets that are as inexpensive as possible. Consequently the screens aren't as nice as they used to be.
For example, the 7-inch Fire HDX has a 1920 x 1200 resolution screen, which equates to 323 ppi. By comparison the current 7-inch Fire tablet has just 171 ppi.
The newer models have the advantage of better software and expandable storage via a microSD card slot. Too bad Amazon doesn't offer a current Fire HDX model with new software and expandable storage. A Fire tablet with a high resolution screen for readers would be a nice option to have available…