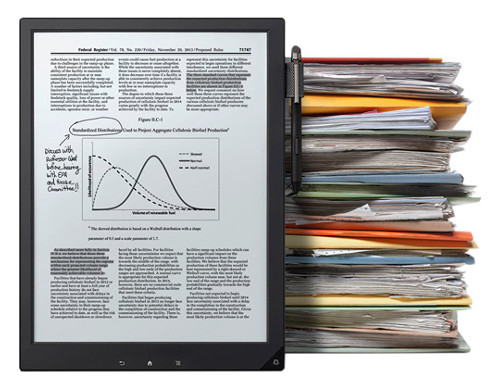 Last month all signs suggested that Sony's 13.3-inch PDF Reader was being discontinued.
That was quite obvious by the fact that the listing at B&H had a big red "Discontinued" sign on the product page.
Since then the price of the Sony DPT-S1 has skyrocketed back into crazy expensive territory like it did before it was officially released in the US.
Before they stopped selling it at B&H and Amazon, the price was $799.
At one point during the summer it went on sale for just $599.
Now the price of the DPT-S1 at Amazon is $1499, and it's not even new.
There are a number of listings on eBay as well, and some are as high as $1899!
It's crazy how much the price has gone up in one month.
And now it's not even clear if the Sony DPT-S1 has really been discontinued. The product page at B&H no longer says discontinued; now it says it's on back-order. It's will be interesting to see if they indeed start selling it again. There's still been no sign of a DPT-S2 getting released.